The $1000 Les Paul Shootout: Part One
Three of the best put to the test in this week's LP shootout.
UG Team
Ultimate Guitar

UG Team
UG editorial team. A group of people who are passionate about guitar and music in general.
Posted Apr 14, 2016 11:58 AM
A few weeks ago, UG posted an article about Les Paul, the creator of one of the most famous electric guitars of all time. Following on from that, I thought it would be fun to get out into the wide world and road test some of the guitars that have been inspired by Les' legendary design, and put together a Les Paul buyer's guide.

I set myself a few rules. The instruments I played had to be affordable on a moderate budget, which I set at £700 ($1000 for all you stateside readers). It would have been a lot of fun from a playing perspective to base this feature entirely on high end, $2000+ Gibson models. But, those guitars aren't affordable to the majority of people reading this and I wanted to write an article that was actually useful.

One of the big problems I faced was deciding what exactly constituted a Les Paul. Going by guitars that bore the name, I was restricted to the two companies holding the license - Gibson and Epiphone - and "The $1000 Gibson and Epiphone Les Paul Shootout" didn't sound like the most compelling read.

Ultimately, I went for instruments that I felt were trying to closely emulate the characteristics of a Gibson Les Paul, rather than instruments inspired by the design that were also their own beast. Guitars I excluded based on that criteria included the PRS Singlecut SE and the Schecter Hellraiser Solo-6. Both are fine instruments and clearly indebted the classic Gibson LP, but I felt that they were too distinctive to feature on this list.

Also, I was limited by guitars that were available for me to try at guitar stores local to me. This meant that I was unable to try a couple of Les Paul style guitars I'd heard great things about - including those from Edwards and Hagstrom. That's not to say that these instruments don't belong here, just that I couldn't get hold of them in time for the feature.

So without further ado, here's part one of the Les Paul shootout. Part two, along with my concluding comments, will follow next week.

Vintage 100AFD Paradise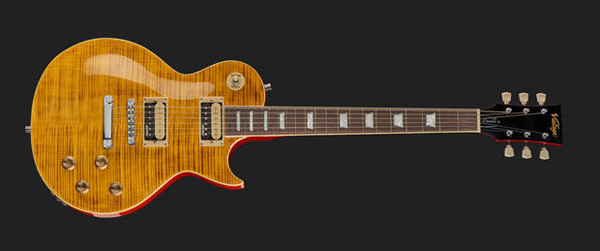 As you've probably guessed, this is Vintage's take on the classic 50s style Les Paul that Slash played on "Appetite for Destruction" (if you read my Gear of the Gods article a few months back, you'll know that Slash's guitar is a Kris Derrig copy rather than a real deal Gibson). At £279, it's a damn sight cheaper than a Gibson Slash signature model, or indeed one of the limited edition Epiphone Slash models that gets released intermittently.

But how does it compare to those instruments? Remarkably well for the price as it happens. The first thing that strikes me about this one is that it's bloody heavy! In terms of weight, it's pretty comparable to a genuine 1950s LP, which wins points in terms of authenticity. Thankfully, it comes with strap locks as standard - if this thing fell on your foot, it would probably break it.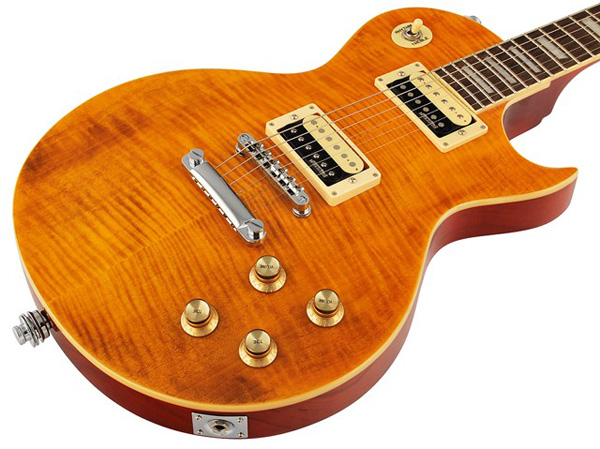 Finish is really nice. Not custom shop Gibson nice, but certainly a lot better than you'd expect from a sub-£500 guitar. The flame top is well done, while the neck binding is a classy touch that makes the guitar look much more expensive than it actually is.

It's also a breeze to play - well balanced with a nice, low action. No rough edges or proud frets, it's a quality job all around.

One thing I didn't love on this one was the pickups. It's not to say that they're bad - the Wilkinsons fitted in the instrument are, in fact, a damn sight better than many p-ups that you'd find in a guitar at this price - and great for balls-out rock. But, I did find them to be lacking when it came to clean tones. Still, if you're working from a $1000 budget, you've got plenty of cash left over to upgrade to a signature Seymour Duncan Slash set. Hell, at this price, you've got enough left over to buy the top hat to boot.

Pick-ups aside, this one was amazing for the money. If it cost £600, it'd still be raving about the quality of it. At £300, it's a steal.


Gibson Les Paul Studio


Coming in at £650 (You can pick them up for around $800 in the States), this one was the most expensive guitar I played. It's also the only genuine, "made in USA Gibson" within the price range.

How does it play? Like a fucking Gibson, that's how. The one I picked up was lovely off the shelf, with the warmth and versatility that you'd expect from one of the most iconic guitars of all time. The model I played was rocking Burstbucker Pro humbuckers, which sounded great, and I got on very well with the rounded '59 neck. It didn't feel as weighty as the Vintage (I'm not sure if there's a genuine weight difference there, or if that's a psychological thing), but it certainly wasn't lacking in heft (the sustain was immense.)

The downside? For a sub-$1000 Gibson, something has to give, and in this case, it's the finish. Bare bones, you're not getting any fret binding or pearl inlays on this one. The Worn Cherry paintjob is decent enough, but a gold top or tobacco burst it most certainly ain't. Also, these matte finished guitars tend to scratch, ding and chip like a motherfucker - gig with one and expect it to get road worn very quickly.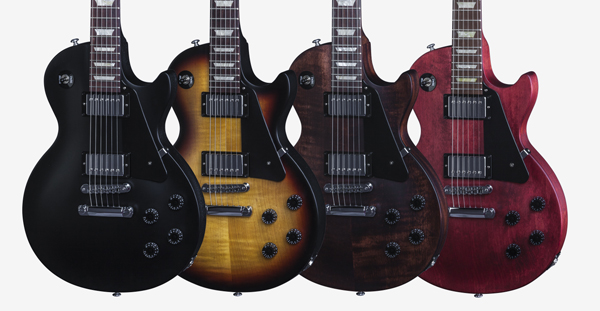 It might not look the part, but it certainly plays it. If you can live without a sunburst finish, this one plays like a beast. Besides, it's a Gibson for well under a grand, which is pretty hard to argue with.


ESP LTD EC-256FM


Of all the guitars on this list, this is the one I deliberated most on whether to include. LTD's take on the Les Paul is an interesting one in that it waivers somewhat from the classic LP design. Looking in the Ultimate Guitar reviews of this instrument, I see there is some debate as to whether it even counts as a Les Paul copy, given these disparities. I'd still say it does - the contours of the body are clearly mimicking the iconic guitar's style - but there are some notable differences.

The thin U profile of the neck, for example, is thinner than you'd get on an LP, while the body is the thinnest and lightest of all the instruments I've played. Weight wise, it felt somewhere between a Les Paul and a Strat.

Very well balanced, the model I played had a smooth, fast neck, which made playing a breeze. With a slight contour on the back of the body making playing when sitting down more comfortable, this is certainly the most ergonomic instrument on the list.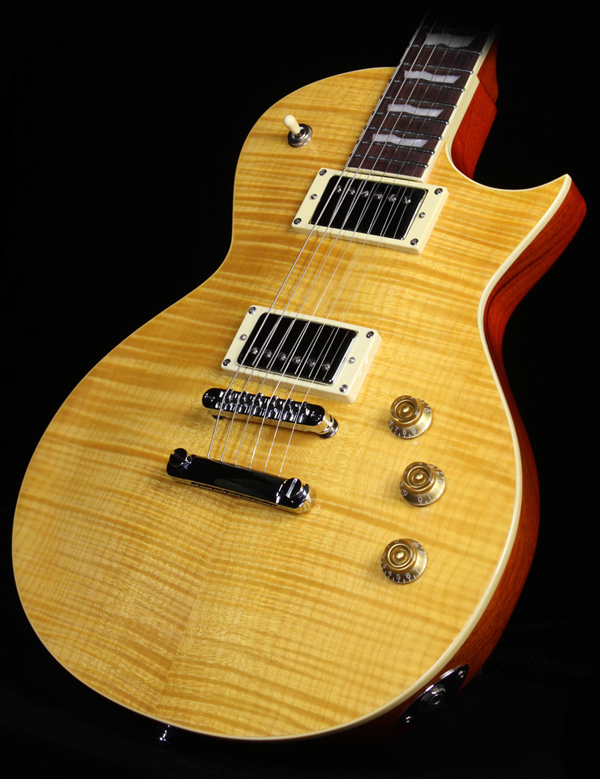 Built quality on these seems to be consistently good. Despite a couple of dodgy looking "road worn" editions in the line, all of the EC-256s I saw were well finished in styles that evoked classic Les Pauls of the 1950s and 1960s.

As with the Vintage, the weak point in this guitar is the pick-ups. Again, they're not bad, per-se, and better than you'd expect in a £300 instrument. But, they don't hold up to the Burstbucker Pros in the Gibson.

You've also got a coil tap in this model, which adds to the feeling of the guitar having a touch of the Fender about it. It gives you some tonal versatility, sure, but if you want a full on, LP vibe, I'd recommend adding some PAF style p-ups in and disregarding the coil tap altogether.

Perhaps not quite Les-Paul-y enough for the criteria of this list, this one was nonetheless a joy to play. If you're after something lighter and ergonomic, this is the axe for you.




By Alec Plowman