The Les Paul Shootout: Part Two
Three more LPs go under the microscope in this week's edition.
UG Team
Ultimate Guitar

UG Team
UG editorial team. A group of people who are passionate about guitar and music in general.
Posted May 19, 2016 01:44 PM
Read Part One here.

Three more humbuckin' motherfuckers go under the microscope this week in the quest to crown the best Les Paul for under $1000. And, if you think that nothing could top the might of the Gibson Les Paul studio from last edition, you've got another thing comin'... there's a beast from the east giving the big boys a run for their money.


Burny Super Grade RLG-55P


For those of you not in the know, Burny are one of the infamous "lawsuit" guitar manufacturers of the 1970s. The Japanese company (which is actually a subsidiary of Fernandez) was one of several that started churning out high grade LP copies in the latter part of the decade to capitalize on the dip in Gibson's production quality occurring at the time.

Burny's "Super Grades" were considered amongst the best of the lawsuit era, with many considering them superior to the genuine article Gibsons of the time. Recently, they've started producing them again, but with the base of manufacture moved from Japan to Korea.

So, does this new, Korean made Burny live up to the legend of the Japanese original? It comes pretty damn close.

The version I played was a RLG-55P with a retail price of £499. It's a gold top with a mahogany, '50s style neck, a mahogany body with maple cap rocking a pair of Burny's home grown VP-200 P-90 style pick-ups.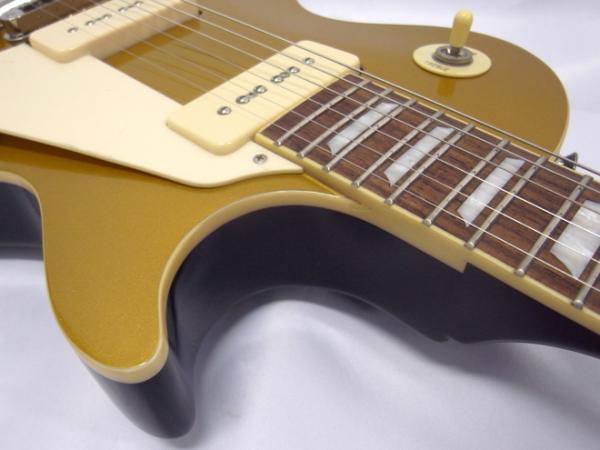 Perhaps more than any instrument I've played (even the Gibson), this one feels evocative of a classic Les Paul. It certainly has the heft of one, while the Gold Top design is classily applied and nicely finished. The VP-200s sound great, and do a marvellous job of evoking that classic P-90 vibe. I played this one through a really nice Fender Blues Deluxe and could have spent hours noodling on that combination. The neck was really well set-up, with no proud frets or rough edges and the playability of this thing amazed me.

Are there any downsides to this one? Well, certainly not with the model I played. I'd need to play a few more to be certain of quality control across the board (after playing this one, I certainly will be!), but if the RLG-55P I played is representative, then my hat goes off to Burny. At £499, this is an absolute steal.


Epiphone Les Paul Standard


For most guitarists looking for a Les Paul on a sub-£500 budget, this one is probably going to be the first port of call. A guitar store staple since its introduction in the late 1980s, the Epi Standard was a licensed response to the lawsuit guitars of the 1970s, promising the features of an American made Gibson at a fraction of the price.

Certainly, there's a lot to like about the Epiphone Les Paul Standard. You get a good guitar for your money (RRP for these is £399. The one I played was priced £319). Mahogany body, hand-set mahogany neck, rosewood fingerboard - it has many of the specs that you'd associate with a classic LP. On the model I tested, the slim-tapered neck was really fast, smooth - effortless to pick-up and play.

The finish on these is also decent, if somewhat basic. At the £399 price point, you're only getting block colors; ebony, gold or cardinal red. If you want a flame top, you'll need to fork out 100 extra for a Standard Plustop Pro, though you also get upgraded p-ups with that model, so it's not just about the finish.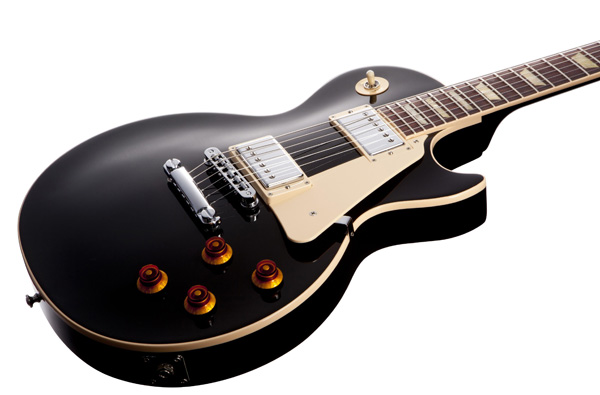 On the subject of pick-ups, the Epiphone falls pretty much into the same category as the Vintage and the LTD from Part One. The Alnico in the neck and Alnico classic in the bridge are decent enough, and do a great job when it comes to balls out rawk, but were a bit lacking on cleans (by comparison, I actually think that the WIlkinsons in the AFD100 did a slightly better job in that department). With the price of the guitar as low as it is, you've got enough left over to upgrade the p-ups (if you're a UK resident, Iron Gear do some great humbucker sets at a very affordable) sub-60 price point.

I also wasn't super hot on the Grover tuners included, and found the instrument intermittently slipping out of tune during intensive play. Again, I'd want to upgrade these, possibly to a set of Wilkinsons (while their pick-ups are merely decent, their hardware, in my experience, is excellent and very well priced).

Those faults aside though, this one is still a fine guitar. As I said, there's a lot to like, and the negative factors are easily upgradable if you have the inclination.


Tokai Love Rock UALS50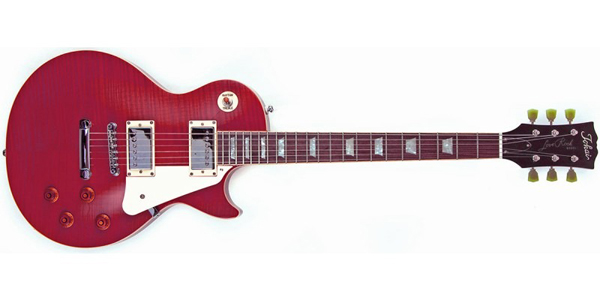 The last guitar on this list is another relic of the lawsuit era, re-imagined for the present market. A modern-day, made in China version of the Tokai Love Rock model of the late 1970s, the UALS50 comes with a £380 price tag clearly aimed at the mid-range market.

This one is once again rocking a flamed maple top, mahogany body, this time with a maple set in neck. Fretboard is rosewood with a 12-inch radius and a 24/34 scale length.

As with the Burny, this one does a great job of replicating the feel of an old-school Les Paul. Aesthetically, you've got the classic "open book" Gibson-style headstock (I'm assuming this is made under license these days, given the tumultuous lawsuit history, but I'm not 100%) with a number of finishes that evoke classic LPs of the late 1950s and early 1960s. Speaking of finishes, this one is very well realized. The trapezoid inlays on the fretboard look the business and the cherry sunburst on the model I played was nicely done.

The neck on the UALS50 is nice and fast (slimmer '60s style once again), and the hardware feels really solid and reliable. Tokai's homegrown pick-ups also to a good standard, with cleans coming through a lot nicer than some of the other guitars in this price range. Cranked up, you get the bags of sustain you'd expect from an LP, with warmth and fatness really coming through on a cranked up crunch setting.

Of the two lawsuit era instruments in this category, I do feel that the UALS50 was pipped to the post by the Burny RLG-55P. However, there's a difference of £120 between the two, which might account for the disparity. I know that Tokai have some higher priced, Made in Japan instruments, which are meant to be the fucking nads, but I didn't get the chance to play one while compiling these reviews.

Even though it doesn't quite live up to the precedent set by the Burny Super Grade, the Tokai Love Rock is still a beast, and you get a lot of guitar for your money.

The Verdict
Six Les Pauls later...
First off, I'll note that none of the guitars I played was bad. Far from it. Purchase any one of these axes and you've got yourself a keeper. I should also state that there's always going to be an element of subjectivity to this sort of thing. I, like any guitar player, am inherently biased. I've tried to be as objective as possible, but at the end of the day, the way I play means I will favor certain instruments over others. Chances are you'll pick up any one of these instruments and have a completely different playing experience to mine. If you're in the market for a Les Paul, by all means use this shootout. If it was of some help to you, then you're very welcome. But this isn't the gospel, so get out there, play the guitars and make your own mind up (indeed, with that in mind, if you want to contest any of the things I've said, feel free to sound off in the comments).

With all that out of the way, then, here are, in reverse order, my picks of the pack - the three Les Pauls that scored top marks.


3rd Place: Vintage AFD100 Paradise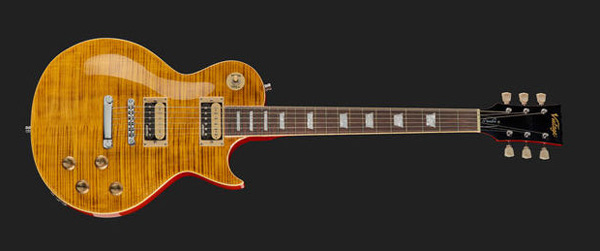 I continue to be amazed at what you get for your money with Vintage guitars, and the AFD100 is no exception. An excellent replica of Slash's main axe at a price that's hard to beat, this one is an out-the-box, ready-to-gig warbeast that looks and plays the part of a genuine LP.

The pick-ups are a bit lacking (and again, I should iterate, not bad at all, just not up to the standard of some of the higher end entries in this list), but even with the money you'd spend replacing them on top of the cost of the guitar, you've still got a bargain.


2nd Place: Gibson Les Paul Studio


I can't quite believe that I'm putting the Gibson SECOND on this list, and it really was by a hair's width that it was pipped to the post.

This is an awesome guitar. It does everything you want a Les Paul to do. Given the name on the headstock, you'd bloody well hope so. Effortless playability, great sounding everything, warmth, depth and sustain in abundance...

So why doesn't it take the top spot? Sad truth is, the Gibson Les Paul Studio isn't much of a looker. Shallow, I know. But, I want a LP that looks the part, as well as playing it. I want to feel like Slash, like Peter Green, Jimmy Page when I'm wailing on my axe, and a matte worn cherry finish doesn't quite do that for me.

Still, if you can get past that, this is a motherfucking Gibson Les Paul. It plays amazingly, and, at under £1000, is an absolute steal.


1st Place: Burny Super Grade RLG-55P


In case you didn't guess, I fucking love this guitar.

The Burny Super Grade RLG-55P gave me everything I wanted from a Les Paul. Tone, playability, aesthetics - and all in a sub-£500 package.

The build quality was great, the gold top finish felt classically Les Paul-ish and Burny's home-grown pick-ups are the business. In spite of the fact that I was reviewing these guitars with no intention to buy, I very nearly stumped up the cash for this axe after a half-hour of playing. In fact, I'm still contemplating it.

As I said previously, I didn't have the opportunity to try more than one of these. But if the quality of the RLG-55P that I played is representative of Burny's Korean instruments, the company deserves plenty kudos. This guitar is shit hot. Not just one of the nicest Les Pauls out there, but one of the nicest instruments I've ever played. Period.

By Alec Plowman