Three Golden Rules for Buying Your First Electric Guitar
Finding your first six-string doesn't need to be a minefield.
UG Team
Ultimate Guitar

UG Team
UG editorial team. A group of people who are passionate about guitar and music in general.
Posted Feb 16, 2016 03:19 PM
For any aspiring Hendrix or Clapton, buying your first guitar is a rite of passage. It's also a fucking minefield.

In my experience, very few guitarists are happy with their first instrument. Due to inexperience, they end up picking out an instrument that either doesn't suit their playing style or is just plain poorly made.

I'm a classic example. The first instrument I bought was a cheap Fender Strat knock-off. I battled with that guitar for months - trying to keep it in tune, struggling to get the tone I wanted out of it - before throwing in the towel and forking out for another instrument.

It doesn't have to be that way though. Over time, I've realized that there are things beginner guitarists can do to ensure that their first guitar is a cherished instrument and a useful tool, rather than an adversary that impedes your playing.

These rules are by no means definitive. But, by following them, you're more likely to find a first instrument that you love.


1. Don't Buy Until You Know the Basics
If you've never played the guitar before and want to start learning, buying a guitar is not the first thing you should do. That sounds counterintuitive I know, but hear me out.

Before you buy a guitar, you need to at least know the basics of playing one. Otherwise, you're going to have absolutely no idea what you're looking for in an instrument. That's not to say that you have to be Steve Vai by the time you purchase your first six string. But, having the ability to play a few basic riffs and form some chord shapes is enough to give you a sense of a whether a guitar feels right to play.

So, how do you go about playing a guitar before buying one? Borrow one. Ask friends, family, neighbors and acquaintances and see if anyone has a guitar, electric or acoustic, that they're not using. Given the amount of failed guitarists in the world, you'll probably find someone quicker than you'd expect. If that doesn't work, then search local listings ads, flea markets and yard sales and see if you can pick up a dirt-cheap instrument to have a go on (hell, you might get really lucky and snag a '69 Les Paul for $40).

Spend a couple of months playing someone else's guitar before you go ahead and buy one. You'll be a more informed consumer by the time you spend your money and are more likely to buy the right guitar for you.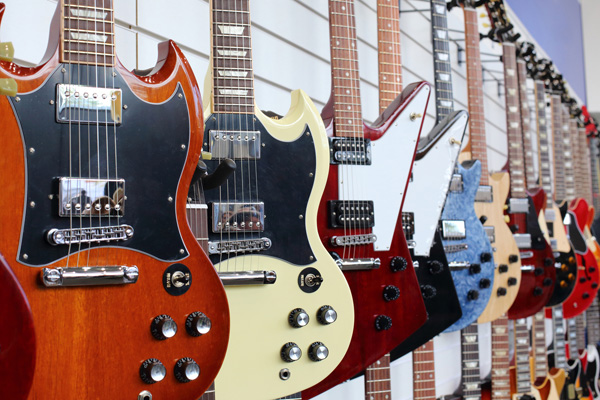 2. Don't Buy Online
I understand why people fall into the trap of buying their first guitar online. Pretty much everything is cheaper on the net these days and it's an incredibly convenient way of shopping.

But, while it's true that you will spend more in store than you would do online, the extra expense is justified when you consider the benefits of buying a guitar the old fashioned way.

First and foremost, you actually get to play the guitar. As I've already established in point one, this is a huge deal when it comes to buying an instrument. You can't get a feel for the guitar through your computer screen - this is something you need to do IRL.

At this point, you're probably thinking about trying a guitar in store and then buying it online. I'd strongly advise against this. Guitars aren't Hi-Fi systems - the set up varies from instrument to instrument. Even though it's the same make and the same model, the guitar you play in store may be completely different to the guitar you play online.

The second advantage to buying a guitar from a real world guitar store is that you can take advice from people that know their shit. At a good guitar shop, a sales person will take the time to discuss what you're looking for in an instrument.

They'll be able to answer all your questions and will be invested in helping you find exactly what you're looking for, and will set the guitar up to suit your playing. After you've bought the instrument, they'll also be on hand to field any questions you have about maintenance, or any modifications you want to make to it down the line.

Find the best guitar store in your area and go there to pick up your first instrument. It will cost you more than buying online, but it will be plenty worth it in the long run.


3. Spend as Much as You Can Afford
In the past three decades, a huge market has emerged around what are described as "beginner guitars." Coming in at around $100, "beginner guitars" are very appealing to inexperienced players because they look cool (they're often based on classic Strat or Les Paul designs) and are inexpensive. But, buying one is a big mistake, and one that could impact upon your motivation.

Beginner guitars tend to be inexpensive for a reason - they're poorly put together and made of low quality materials. These factors make them difficult to play, difficult to keep in tune, and an all-round nightmare to maintain. Buy one, and you'll probably be looking to exchange it within six months of playing.

When you buy a guitar, you want that guitar to last you a long time. So make sure to spend your money on something you can get some mileage out of. $300-$500 might seem like a lot to blow on a first instrument, but it's a worthwhile expense if you're serious about playing. (on a related note, you check out my recommendations of great guitars for under $500 if you want some ideas)

As a rule, look for a first guitar that is well put together and made of quality wood. Once again, I'd highly recommend buying from a store so that you can take advice on these things.

By Alec Plowman