A7X's Gates: I Believe Synthetic Effects Will Very Soon Be as Good as Analog. And I'm a Purist
"The guy that designed the 5150 - he explained how it's very possible for something synthetic to sound absolutely natural."
jomatami
Ultimate Guitar

jomatami
UG News editor since early 2013. King Crimson fan. I handle the 'news' around here.
Posted Sep 12, 2017 01:55 PM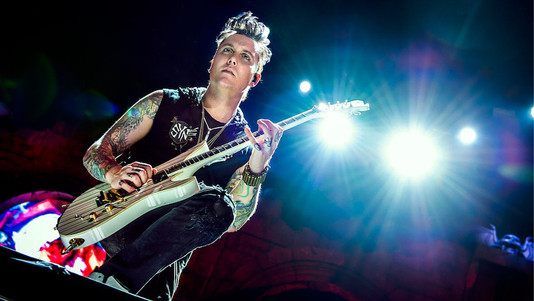 During a recent appearance on Sounding Off, Avenged Sevenfold guitarist Syn Gates discussed the current state of synthetic guitar effects, saying (transcribed by UG):
"So we were hanging with James Brown, the guy that designed the 5150 and my Hellwin.

"He admitted that it takes a lot of circuitry - he explained how it's very possible for something synthetic to sound absolutely natural, you couldn't hear the difference side-by-side.

"So I'm giving Fractal a chance to come out here and blow minds, program something. I'm thinking about doing a pact with them or something along the lines, but it has to sound good.

"I am so particular about amps and gear as well. I wouldn't say I'm a gear buff, but I do have a good ear when it comes to that types of sonic qualities. We're huge in production of our records, students of other people's producers...

"So I feel like I can hear a difference, but many people say, 'All you need is this next chip that's gonna be released by the government, and it does all this, and once it has that superpower then that's gonna be able to create all these things and it's never gonna over-compress or cut those waves off.'

"I always call it a little bit more plasticky sounding to me, rather than it's sharp and vibrant as some of the real stuff. So until my ears can't differentiate, I'm gonna stick with that stuff.

"Because I'm a purist, not with everything, but definitely as a guitar player. I mean, I can't fathom sacrificing tone! I just can't do it. But I'm hearing that it will be unnoticeable to the ear. You won't be able to differentiate in the very near future."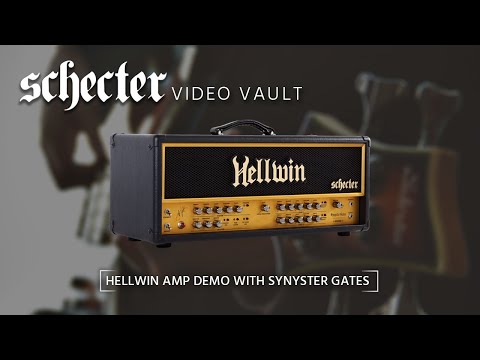 Syn continued:
"I'm hoping. I'm a futurist, I don't wanna be stuck in the past or the present. I can't wait to see what the next day brings, and I already love where Fractal and Axe-Fx is to my ear already.

"And a lot of people say right now it's good. 'We'll be able to tone match and you won't be able to tell the difference. And we're gonna come in and we're gonna do it.' And I'm very open to it.

"I'd love to streamline and just have an Axe-Fx unit. The whole Hellwin thing... [shows the huge rig] That's the thing right there! [Laughs] So that's a hell of a lot of shit to bring out on tour. It's a hell of a lot of shit that can go wrong. And they do.

"So you have to have another compartment or rig for spare parts and all this kind of stuff. So yeah, would you wanna streamline and just have it solid and reliable, yeah. They also say, 'When we do this to people we'll profile and you can't tell the difference. But then we'll kind of cross sell you on something that's already in there.'

"But they tweak it with their magical hands. Because I guess out of the box... It's supposed to be very play ready, it's got the gloss. But when you really get in there and tweak on it, and I have, that's the problem possibly with not being able to attain that yet, it's because it's not very intuitive, at least not for the layman like me.

"It's really hard for me to go in there and go to the different profile pages, and then tweak this transistor, and this diode, what type of power you're using... I mean, you can tweak all that stuff, and it absolutely changes shit.

"So yeah, I'm excited to get them in here and try and learn more about it. Because I'd love to have a one stop shop right here, even in the studio.
Asked whether he utilizes Axe-Fx for live gigs, Syn replied:
"Yeah, I run it in the effects loop of the amp. Nothing in front yet. I haven't needed compression or anything like that in front of the amp. But all the modulations and stuff like that are in the effects loop.

"And then a Pro Tools rig to do all the switching. Pretty cool little setup. 95% of our songs, we have some tape or some orchestrations that we like to have live. And so that necessitates the click and a framework. So you can just punch in those numbers, and no more tap dancing, no more mistakes."