AC/DC's Phil Rudd: Why I Refuse to Play Drum Solos
"The only time I've played a drum solo is when the PA went down."
jomatami
Ultimate Guitar

jomatami
UG News editor since early 2013. King Crimson fan. I handle the news around here.
Posted Jul 14, 2017 10:40 AM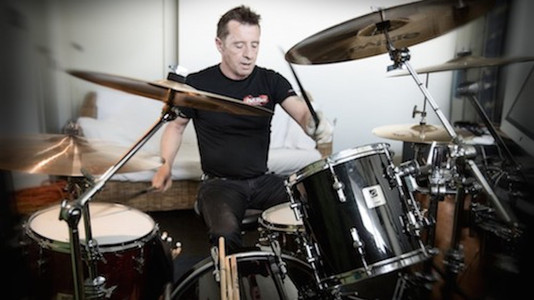 Classic AC/DC drummer Phil Rudd was asked by Music Radar about his reluctance to play drum solos and whether he was ever "tempted to throw a solo into the AC/DC show," to which he replied:
"Nah mate! I didn't want to make a total piss out of myself.

"The only time I've played a drum solo is when the PA went down when we played one time at Wembley Stadium.

"Everything went down, the whole thing and the only thing that anyone could hear was my acoustic kit. So everyone said, 'Keep it going, Phil, keep it going.'

"But as for solos, nah, I fuck around a little bit at home. I'm always playing something; I think it's more just like a form of ADHD [Attention Deficit Hyperactivity Disorder], to be honest. [Laughs]

"I've got all sorts of toys that I play with at home. But when it gets time to work I'll strip the kit right down to what I always use.

"That's all that I need and I know that it all works."
Asked if he used click track on his latest solo album "Head Job," Phil replied:
"Nah, no click, mate. It was just pure determination. I thought the timing on the album was pretty good, especially considering that there's not a click on there.

"Way back in England in the late '70s, we tried using a click in the studio and we just couldn't. It just didn't sound right, it didn't sound right for the band.

"On some occasions we did use a click, but I won't tell you which songs we used one on. [Laughs].

"That worked for us as well though, I quite enjoyed it. Using a click made life fuckin' easy. It took a whole lot of pressure away from you. Either way though it's all good as far as I'm concerned."
You can check out the "Head Job" title track in the embedded player below.