Album Sales Hit All-Time Low in July
We also discuss Led Zeppelin singer Robert Plant joining social media and new audio tech from Apple in this week's industry roundup.
Unregistered
Ultimate Guitar
Posted Aug 12, 2013 02:01 PM
Welcome to our weekly roundup of music industry news.
This week, there's some sorry news for the classic album format - but don't mourn the LP just yet. Elsewhere, Robert Plant has joined social media, though we're a bit sceptical that it's really him behind the keyboard, and Apple has come up with one of its smartest ideas in a while with a new audio hyperlink feature. Read on to find out more.
US Album Sales at All-Time Low
US album sales have fallen below five million sales for five consecutive weeks, according to Nielson SoundScan. In one week towards the end of July, just 4.69 million albums were sold - the lowest week since records began in 1991, according to Hypebot.
Observers think that the rise of streaming is affecting traditional full album sales, with CD sales dropping by 14 percent in 2013 so far compared to the year before.
Is the traditional album dying out? Will you try to help it live on by supporting and creating full albums? Share your view in the comments.
Robert Plant Joins Social Media
Robert Plant joined Twitter and other social platforms this week, though the whole thing smelt like a PR exercise considering it coincided with his new website launch. Nothing wrong with that, since Plant's far too cool to be keeping on top of technology, but is it really him behind the keyboard?
Either way, the singer took to Twitter to answer fan questions this week. Here's a few of our favorite answers.
What's your advice to young songwriters?
Hey @BruiseVi0let, Keep mixing it up. Change key regularly. Try different guitar tunings --RP
Robert Plant (@RobertPlant) August 8, 2013
What's your most memorable gig?
Hi @carolinekmiecik, Festival in the Desert, nr Timbuktu, Mali --RP
Robert Plant (@RobertPlant) August 8, 2013
If you didn't join Led Zeppelin, what job would you be doing instead?
Hi @glittertr4uma_, Marriage Councellor --RP
Robert Plant (@RobertPlant) August 8, 2013
Apple Invents Audio Hyperlinks
Clever idea, this.
Imagine you're listening to a podcast, and they mention a website. How do you follow through to that site, when there isn't a link to click?
Apple has an answer. Audio creators will soon have the power to add links to their productions, letting listeners 'click' on a segment of audio to be taken elsewhere.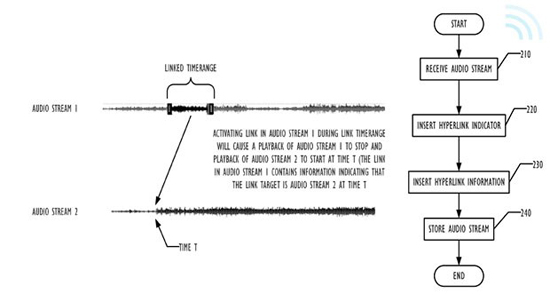 Other uses could be links to wikipedia for complex topics, or bands offering a link to iTunes while listening to a preview song stream.
Can you think of other ideas for this new audio hyperlink concept? Let us know in the comments.
That's it for this week. As usual, see if you can pose some challenging questions for us in the comments and we'll take part in the debate.