Alice Cooper's Guitarist Nita Strauss: I Learned Everything From UG When I Was a Kid
Nita says she directs people to UG all the time when they're learning new songs.
jomatami
Ultimate Guitar

jomatami
UG News editor since early 2013. King Crimson fan. I handle the 'news' around here.
Posted Dec 10, 2016 02:45 PM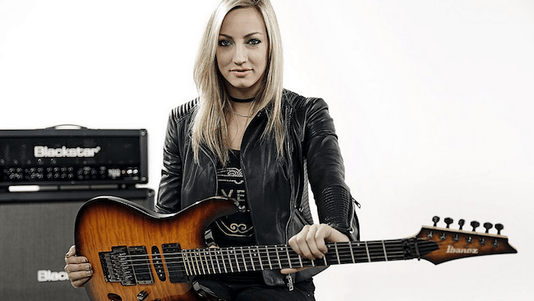 Nita Strauss, the guitarist of Alice Cooper and The Iron Maidens, revealed that UG played a crucial role in the beginning of her musical journey.
She told UG interviewer Justin Beckner: "I learned everything from Ultimate Guitar when I was a kid.
"I was all into Metallica and Megadeth. I never really had the right hand for it. I still don't. But I would go on UG and I would post on the forums and stuff.
"It's funny now. I looked at my account recently and the last activity was like in 2006. But I could see all the old messages asking people what they thought about, for example, the new Tube Screamer versus the reissue. It's fun to go back and look at that stuff. It's a trip."
Focusing on advice she has for all the aspiring guitarists out there, Nita added: "I'm not just saying this because of who I'm talking to, Ultimate Guitar is a great resource and I direct people there all the time when they're learning new songs.
"The other piece of advice would be to just have fun with it, especially if you're getting into technical playing. Don't get so bogged down with all the technical stuff. It's supposed to be PLAYING guitar. So play. Have fun with it. Don't let it turn into work.
"That's advice that I have to take too. I have to practice guitar because it is my job. But just like in a relationship, even after you've been with someone for a long time, you still have to go on dates. That's how you keep your relationship alive. It's the same thing with your instrument. You have to do stuff that's fun for you or it will become work."
Fun fact in case you didn't know it: Nita is actually a descendant of Austrian composer Johann Strauss. She noted during the interview:
"I come from a musical family. My dad was a musician and he played in bands. My musical ancestry goes back to the composer Johann Strauss. So there was always music around and there were always instruments in the house.
"But it wasn't until I saw the movie 'Crossroads' and that scene at the end with Vai. That's what sparked my love of the instrument and my desire to play like that. It's still what inspires me to this day."