Apple Reveals iTunes Radio and iOS 7
A striking new Mac Pro design was also revealed alongside their biggest software changes in years. Do you like their new design direction?
Unregistered
Ultimate Guitar
Posted Jun 11, 2013 02:33 PM
Apple has announced a new iTunes Radio streaming service, which will appear in the US as part of a major iOS 7 update this fall.
According to MacRumors, the app will stream recommended music and custom stations much like Pandora, and will be supported by ads unless you subscribe to iTunes Match for $25 per year, which will remove all advertising.
Elsewhere, Apple revealed a major design overhaul of iOS 7, their mobile operating system. Jonathan Ive was promoted to control all software design along with his old hardware design duties, and has made a clear mark on both iOS and the desktop system OS X. Notable changes include the sparse flat design with 3D effects, multitasking and file sharing between iPhones.
Recording studios looking to upgrade their Mac Pro computers have been waiting years for a new model to splash their money. Last night, Apple finally revealed an all-new Mac Pro in a cylindrical design which supports the new 4K high-definition TV standard, alongside a new MacBook Air model with a battery life of up to 12 hours.
What do you think of iTunes Radio and the latest iOS changes? Is it innovative, or does it borrow too much from Android and Windows phones? Let us know what you think in the comments.
iTunes Radio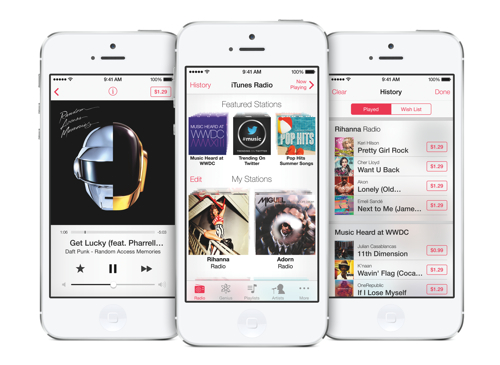 iOS 7 introduction video
The new Mac Pro