Arch Enemy's Alissa White-Gluz: I've Been a Vegan Longer Than I've Been a Singer
"It's definitely something I try to put across in my work, but that's just because I really care about it."
jomatami
Ultimate Guitar

jomatami
UG News editor since early 2013. King Crimson fan. I handle the 'news' around here.
Posted Aug 22, 2017 01:12 PM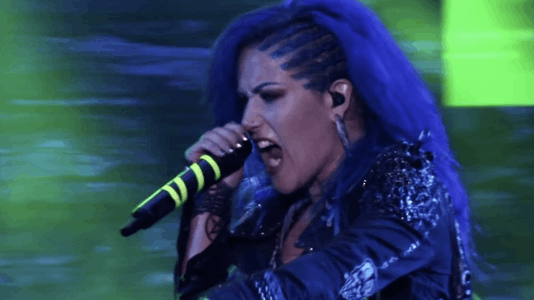 Arch Enemy vocalist Alissa White-Gluz discussed being a vegan, telling Century Media (transcribed by UG):
"I've been vegan for almost 20 years now, so it's a huge part of who I am. I've been a vegan longer than I've been a singer.

"And it's definitely something I try to put across in my work, but that's just because I really care about it.

"It's not because I feel that it's necessary, or I think it's a good selling point or anything, it's just that's who I am.

"So if I'm gonna be singing honestly, it's probably gonna be about something that I honestly care about.

"One of the reasons I think Arch Enemy gels so well is because we all share very similar values when it comes to human rights, animal rights, even politics, religion - we're all kind of on the same page.

"I have no fear that Mike [Amott] is gonna write some lyrics that I don't feel comfortable singing. That never happens. Every time he gives me lyrics I'm like, 'Yeah! I wish I wrote this! This is great!'

"And when I write lyrics, likewise, I know that he's not gonna be, 'Well we can't talk about this!'

"And that's one of the great things about metal. As soon as I started playing metal I was like, 'Everybody's gonna want me to shut up about this, they're gonna want me to just focus on aggression.'

"But actually it was the opposite. I quickly found out that the people latched on to the fact that I was being authentic and that was nothing wrong with being yourself, even if your values are maybe a little bit different than most of the people within the community.

"I quickly realized that it was not only on to talk about veganism and peaceful way of living, but it was actually appreciated. I'm lucky in that sense, but also I don't know if I could have done it any other way."
She added:
"When I first started playing metal, lyrically I related more to punk and hardcore scenes where there was a lot more veganism and straightedge people, and people sort of taking a stance for causes that they believe in.

"There was like a few bands that had sort of more motivational lyrics, that I thought was really cool and interesting to hear this sort of juxtaposition between aggressive sounding music but then really a peaceful message.

"And I think that metal has always been, in my opinion, the most passionate form of music. And it only makes sense to actually be passionate about what you're saying when you're delivering music to people, whether it's through an album or for a live show.

"And I think that in the early stages of metal there was... There's obviously classic metal where just being metal is something to be passionate about, and there's a lot of songs about how metal we are and just praising the lords of metal.

"Which is also fun because it strengthens the community. And then there's bands that went more like a history lesson, where you are learning about different events that happen throughout global history, which is also kind of cool.

"No matter what somebody writes about, if they're passionate about, it's gonna come through. But I think that right now the world is in a state of uproar and rebellion. And it only makes sense that music that has always been about that is joining with those causes right now."