Axl Rose Reportedly Considering Classic GN'R Reunion
But even better, Nic Cage was caught behind the stage wearing a t-shirt with Nic Cage. Also drank from a goblet.
UG Team
Ultimate Guitar

UG Team
UG editorial team. A group of people who are passionate about guitar and music in general.
Posted Jun 11, 2014 01:19 PM
Following the massively successful Las Vegas residency, Guns N' Roses might be on a way to a full-on classic lineup reunion.
As the Las Vegas Sun reports, the powerful crowd response to the shows featuring bassist Duff McKagan drove Axl Rose to actually considering the mentioned reunion.
"So much so, he's begun thinking about putting the original group all back together for a global tour," a "knowledgeable insider" told the source. "That would be the biggest-selling rock tour of all tours."
Not disputing the knowledgeable insider, but another source claimed that a full-on reunion is still far-fetched. However, the return of guitarist Izzy Stradlin, at least on a temporary basis, was supposedly set to happen during the residency.
The second source told Alternative Nation that Izzy was scheduled to appear with the band in Vegas on June 6 in 7, but couldn't make it for an unknown reason.
In related news, Slash weighed in on McKagan's appearance with the Guns, telling Daily Star that "it really isn't that big a deal. Duff told me he was going to fill in for what's-his-name." And by "what's-his-name" he meant bassist Tommy Stinson.
But we're forgetting the most crucial thing of all here! Back in Vegas, Nicolas Cage was caught behind the stage wearing a shirt with Nic Cage. Also drank from a goblet. And wore leather pants. And a cowboy hat. Just check out the photo.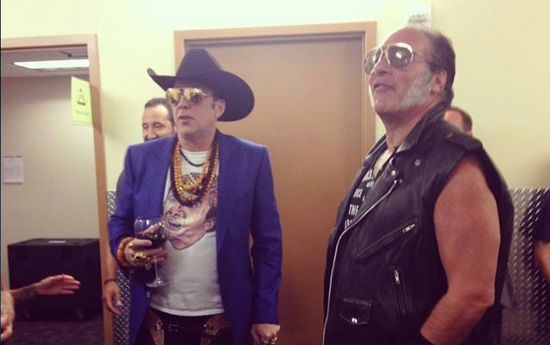 But on a more serious note, Axl Rose's former manager did recently claim that the classic GN'R reunion will happen in about two years. However, the latest info isn't exactly the most reliable one, so stay tuned for fresh tidbits.