Billy Sheehan: Why Are Ears More Important Than Scales
"I don't know much about scales - I just know what I hear."
jomatami
Ultimate Guitar

jomatami
UG News editor since early 2013. King Crimson fan. I handle the 'news' around here.
Posted Sep 11, 2017 06:00 PM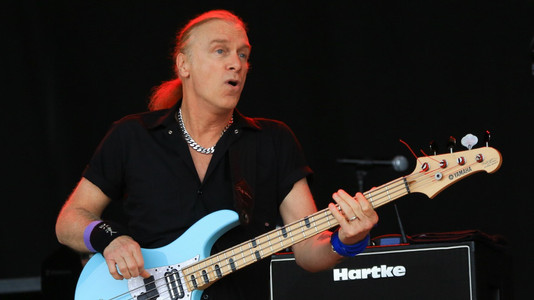 Bass virtuoso Billy Sheehan explained why proper ear training is more important that knowledge of scales in his book, telling Bass Guitar:
"I don't know much about scales - I just know what I hear.

"Thankfully, through listening to a lot of genres, I've probably learned all of the modes.

"So I do know the systems and how they sound, but I don't know which is which or the Greek names for them. When I hear something, I know where to go with it - in more of a visceral, ingrained way than anything too scholarly!

"I wish I knew more, and I'm always studying to self-educate, but mainly for me it's just ears.

"I go with what I hear, so when I hear Steve Vai play, I know where he's going to go. I can anticipate that stuff enough to hold a note at the back or jump in there and deliver whatever he wants.

"When I play with Steve, I want it to be Steve's thing! I'm a sideman; I'm there for the guy whose name is on the ticket. He is like a brother to me, so I want to nail it even more.

"Playing with Richie Kotzen [in The Winery Dogs], there's a lot of blues and jazz notes in there - I always think he plays lines that sax players like Eddie Harris or Sonny Rollins would have.

"On the first Winery Dogs record, he played a solo on one of the songs and I swear I could hear the valves of a saxophone clicking! It's part of the sax tone… I don't know how he does it!"