Boss & Strandberg Joined Forces to Create 'One of the Most Powerful & Versatile Electric Guitars Ever'
It's called the V-BDN, here's what it sounds like in the hands of Mr. Alex Hutchings.
jomatami
Ultimate Guitar

jomatami
UG News editor since early 2013. King Crimson fan. I handle the 'news' around here.
Posted Sep 10, 2017 01:34 PM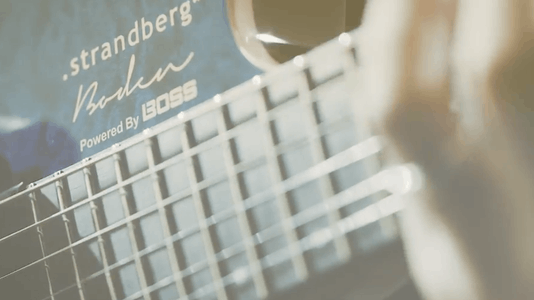 The folks froom Boss and Strandberg have joined forces to introduce a brand new guitar called the V-BDN, branding it "one of the most powerful and versatile electric guitars ever made."
Based on the Boden J Standard model, the six-string packs Boss' guitar synth and modelling technologies, securing a wide sonic range for the player to work with, along with full-instrument drop tunings available at a turn of a knob.
Full info regarding availability and pricing is yet to be released.
You can check out the features below, more info on the official site. Also, a demonstration video featuring Alex Hutchings is available below.
Boss V-BDN VG-Strandberg features
Customized Strandberg Boden six-string guitar with BOSS V-Guitar technologies built in
Headless guitar scientifically engineered by Strandberg for organic tone and unprecedented playability, featuring fanned frets, an ergonomic body, and the patented EndurNeck neck profile
Mode selector and 5-way switch provide access to the onboard standard pickups, modelled humbucking and single-coil pickups, bass, sitar, acoustic guitars, and synth tones
Synth voices include three variations on Roland's classic GR-300 analog guitar synth from the early 1980s
Tuning knob enables instant virtual instrument retuning, including semitone down, whole-step down, drop D, drop C#, and drop C
V-Guitar features powered by four AA-size batteries; up to nine hours of playing time with high-powered rechargeable Ni-MH batteries (2,600–2,700 mAh)
Includes padded instrument bag