Corey Taylor: What's the Difference Between Writing a Book & Writing a Song
"With a book, I could just fucking vomit from the brain."
jomatami
Ultimate Guitar

jomatami
UG News editor since early 2013. King Crimson fan. I handle the 'news' around here.
Posted Sep 11, 2017 04:04 PM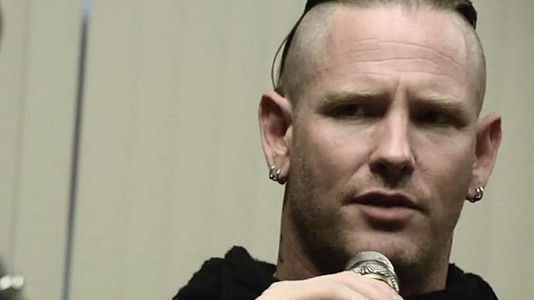 Corey Taylor was asked to single out the differences between writing a book and writing songs, to which he replied (transcribed by UG):
"It's quite different, to be honest.

"With a book, I could just fucking vomit from the brain.

"But with music, at least for me, I like the confines of it, I like the structure. I love songs, I love getting in, being concise, getting people with a hook, blasting them...

"Whether it's fucking angry or melodic, and then getting out and leaving them wanting more. So to me, the book lets me unleash it and kinda take shit to its natural end, as far as that goes.

"Because my brain is fucked up. So I will take that as far as it will go until I kind of sit there and go 'I have no way to beat that to the fucking death anymore.' And I kinda go from there. So it's good to kinda have no rules, and rules. It's refreshing."
Corey was also asked for his thoughts on the current state of music industry, to which he replied:
"There's a funny answer, and then there's a serious answer.

"The funny answer is you're gonna buy fuckin' music on microwaves, and they're just gonna beam it into your face. Much like U2 did with Apple. You walk around and you're like 'Why the fuck am I hearing that?!' [Laughs]

"Honestly, a very real answer to that is I don't fucking know! It's the wild west right now when it comes to fucking music.

"There's such an antiquated fucking system setup for music that actually worked, and now all of the sudden the technology is fucking progressing so fast that we as listeners don't know to even find it anymore!

"It's ridiculous. People like me, who got kinda grandfathered in, we were able to make a living out of it. The younger bands are the ones who are getting fucked. And it's not just because of the technology, it's because the labels don't know how to fucking do it.

"They used to take money, and they would develop great artists. People like Queen! Bands like Queen were allowed to become Queen because labels believed. And now, because of the technology, that time of belief has shrunk.

"You get one album, you get one song, you get one video, to capture the moment. And if you don't, you're stuck in a fucking bargain bin, and you're sent off to try and make your way into another label.

"So to me there are positives, and there are negatives. But I'm not gonna cut it down, because I have been very fortunate to make a living and take care of my kids."
Corey Taylor released four books over the years. The latest one saw its release in 2017 under the title of "America 51: A Probe Into the Realities That Are Hiding Inside 'The Greatest Country in the World.'"