Drummer John Dolmayan: This Was My Day Job Before Joining SOAD, I Was Earning $60k Per Year
"I actually had to take a pay cut to join System," the musician explains.
jomatami
Ultimate Guitar

jomatami
UG News editor since early 2013. King Crimson fan. I handle the 'news' around here.
Posted Apr 20, 2017 05:18 PM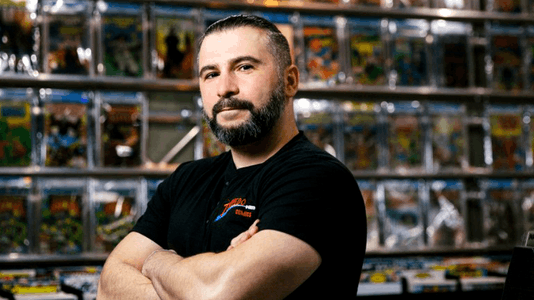 SOAD drummer John Dolmayan recently talked about his biggest passion alongside music - comic books.
Explaining to Inc how his passion was fired up when he was a kid and ultimately grew into a $500 monthly "bad habit," John said:
"When I was 18, I didn't want to ask my parents for money but I had bills to pay, I couldn't afford a good car and I was constantly paying for repairs... so I had to make a tough decision: stop collecting, or make more money.
"Not buying new issues of the comics I loved was unthinkable, so I started selling some of my back issues. I put ads in a free local paper. I had some pretty good books by then, so I ran ads saying, '50% off back issues.' I quickly developed a business selling back issues.
"I lost money for the first 6 months... My dad said, 'Instead of trying to sell them, why don't you just take these comics and throw them away? You'd lose less money.' My parents had been lending me money, and he felt I was squandering my time and my talents.
"When someone tells me I can't do something, I'm the kind of person who will kill myself to prove them wrong. I've been told no one makes it in music. I've been told comic books are a stupid idea.
"I take great pleasure in proving people wrong.
"So I kept at it. I heard about a convention in Anaheim that was strictly for comic books. I went to Home Depot and bought closet organizers and used them to create displays. I crammed everything I could into my beat-up 1986 Baretta, set up my display in a nice corner of the hall... and I made a profit of $250, which was more than I had made the entire 6 months previous.
"I went home and I gave my dad the $250 and said, 'See? I can be successful at this... and I will be successful at this.'
"I kept running ads in the free paper, went to more and more conventions, made more and more money, and expanded my business. Eventually I was making more money selling comics than I was working at my 'real' jobs. So I said, 'This is it. This is what I am going to do for a living.'

Devin Townsend Says He Makes $5,000 a Month, Before Taxes

"Fast forward a few years, and when I got signed to join System I was making about $60,000 a year selling comics. I actually had to take a pay cut to join System.
"Of course, looking back it sounds odd, but at the time deciding to join the band was a tough decision to make. I love everything about the comic business: hunting for rare books, talking to other people who are passionate about comics... I love everything about the comic book world. The first day of San Diego Comic-Con is my favorite day of the year. The last day is my least favorite day of the year, because that means Comic-Con is over.

John Dolmayan Buys First Superman Comic for $317,000
"So I did take a big pay cut to be in System, but I took advantage of touring to go into every comic shop, every bookstore, every antique store I could find.

"People in the business are generally really nice. If they didn't have what I was looking for - vintage, high-end books - they would give leads. I built up 10 to 20 really good sources across the country, I'd buy books in those towns... and when the band was off, I'd set up at conventions and sell books. I did that until 2003, when I decided to build a 'real' business, and that eventually became Torpedo Comics.
"That store did really well really quickly, so we're opening at our new location on May 20. It's a 3,500-square-foot store in a high-traffic area.


"Even so I'm spending way too much money on the store, when a kid walks in I want them to feel the same thing I felt when I was 12 and I walked into my first comic book store. I want the adults to feel that way too. I want people to feel good about being there... and miss it when they aren't there.
"Selling is secondary to me. I truly believe that if you have a great product and create something incredible, the sales will come.
"Anyone can make a living - but not everyone can make an impact. I've always wanted to make an impact."
The drummer concluded: "The key is to do something that makes you happy, so every day when you go to work you're happy about working - that way you put as much effort as possible into what you do. That way you will go to the limit of your ability.
"If you're going to be successful at something, you have to give it every ounce of effort that you can. I've known tons of musicians and tons of people in the comics business who fell by the wayside, and the ones that have the drive... they're the ones that are successful. They're willing to go through the tough times and the failure.
"When someone tells them they can't do something, they want to prove those people wrong. They'll do anything to prove those people wrong - and to get to do what they love."