Foo Fighters Guitarist: Grohl Ordered Us NOT to Bring Normal Gear for New Album. Here's What I Brought
"For me, I normally do a lot of Les Paul through a Friedman. I don't think I played that at all."
jomatami
Ultimate Guitar

jomatami
UG News editor since early 2013. King Crimson fan. I handle the 'news' around here.
Posted Oct 12, 2017 02:30 PM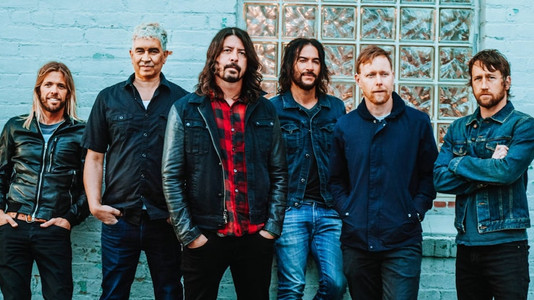 Guitarist Chris Shiflett discussed the gear used on Foo Fighters' latest album "Concrete & Gold," telling Guitar World:
"Dave said, 'Just don't bring your normal gear. Bring something different.

"So everybody showed up with their wacky stuff that they don't normally play - that was kind of the spirit of the record.

"For me, I normally do a lot of Les Paul through a Friedman. I don't think I played that at all.

"It was all guitars with P-90s, little combo amps, shit like that. I got a hand-wired Vox AC15 right when we were doing the demos, and that was kind of the magic amp for me throughout this thing.

"I had my little '50s tweed [Fender] Champ. I had a bitchin' tweed Vibrolux, and I'm sure there was a Deluxe Reverb, maybe a Super Reverb.

"Then I have a '68 non-reverse [Gibson] Firebird that I played probably on most of the record. That was kind of my go-to guitar.

"I also played my signature [Fender Tele Deluxe] model when I needed something with a little more crunch, and I had a couple Teles and a 12-string Rickenbacker that I put on some stuff as well.
Guitarist Pat Smear chimed in:
"I brought in some Les Pauls and other big, cumbersome weird guitars. And I fell in love. Like, 'I get it! These are great guitars!'

"And then for my amp, I was using this weird combo that Dave's guitar tech came up with, which was basically an old '70s vocal mixing board that you might have in your rehearsal place, and that we ran into an old transistor bass head.

"And that became my sound for most of the record, along with some other things, like an Orange, which I had never used before."
Focusing on the effects, Shiflett said:
"There's a lot of warbly things like phasers and flangers, an [Electro-Harmonix] Memory Man, that kind of stuff.

"And there's some fuzz - I think I used that Jack White pedal, the Bumble Buzz, and there's a [JHS Pedals] Muffuletta on 'The Sky Is a Neighborhood.'"
Dave Grohl explained:
"The way [producer] Greg [Kurstin] records, we knew there was this opportunity to branch out and get some different sounds.

"So one of the ideas before we even went in to make the record was that we'd use equipment that we don't normally use.

"There were a few times where I used my number one [Gibson] Trini [Lopez] and Fender Tone-Master amps, but typically for the more jangly stuff we would lean toward a vintage Gibson or Tele.

"And we were literally grabbing old PA systems and keyboard amps and things that were just on the verge of exploding and piling them up. We were throwing stuff together to try to find the coolest sounds we could."
"Concrete & Gold" was released on September 15 as the band's ninth studio album, you can stream it in full below.