Ghost: We Actually Had 10 Lineup Changes Over the Years
Many musicians are not satisfied with staying anonymous, the band's leader explains.
jomatami
Ultimate Guitar

jomatami
UG News editor since early 2013. King Crimson fan. I handle the 'news' around here.
Posted Mar 11, 2017 05:51 PM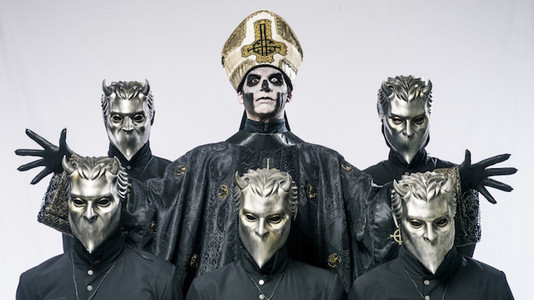 One of Ghost's Nameless Ghouls - probably Papa Emeritus since he's the only member of the band now - revealed lineup changes are actually quite frequent in Ghost, telling Merkur (via Google Translate):

"The masks are usually misinterpreted. It's not about dressing up. It is about anonymity. [With anonymity,] one can make quite different music."
Ghost Unmasked: Nameless Ghoul Known as Omega Reveals His Identity, His Name Is Martin Persner
He continued: "This is actually a problem with this project. For many musicians, this is not satisfactory.
"That is why we had many changes - 10 by now [since the band was founded in 2008]. On the other hand, you can get out of your own artist role and look a little more objectively. You never see yourself as the others see you. And you always see only how you want to be. This is a problem for many."
Asked whether all the lineup changes had a major impact on Ghost's sound, the musician replied: "No, it's all fixed. In the end, Ghost is like a play. If you see 'Faust,' you do not expect the text to be changed."
Discussing his role in the band, the nameless one made it pretty clear he's the group's leader, saying: "I've created the whole project. I've been working for six years, composing, designing stage shows, giving interviews. I feel recognized. This is more difficult for others. [I'm behind] around 95 percent [of all things Ghost]."
Asked about future plans, the fella replied: "Ghost is clearly outlined. Personally, however, I would also like to play guitar in a band. Currently, however, this is difficult, because Ghost takes all my time. I'm like a CEO. [Laughs] When I started, of course, I did not think what might become of it."