Ginger Baker's Son: What It's Like to Be a Musician Son of a Legendary Musician
Kofi Baker says his dad's name closed more doors than it opened...
jomatami
Ultimate Guitar

jomatami
UG News editor since early 2013. King Crimson fan. I handle the 'news' around here.
Posted Jan 11, 2017 05:41 PM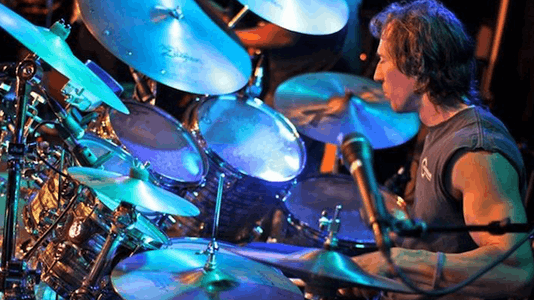 Drummer Kofi Baker, the son of iconic Cream drummer Ginger Baker, recently discussed what it's like to be a child of a musical legend and pursue a career in the field of music, stressing his dad's reputation brought him more bad stuff than good.
He told Mitch Lafon: "My dad wasn't the most liked person in the music business. [Chuckles] It's closed more doors than it opened them."
Sharing a few examples of how he got his gigs over the years, Kofi noted: "Steve Marriott from Humble Pie - I joined his band because his manager saw me playing in a little bar. He didn't even know who I was, he just said, 'I like that drummer.' 'Steve's looking for a drummer, would you do it?' I said, 'I don't know who Steve Marriott is, but if it's a good gig, sure.' That was a door opened just by me playing around."
Sharing a story of how his dad's name cost him the gig, Kofi added "Eric Burdon from The Animals - he was looking for a drummer. I was put up for the gig and without asking anything he just said, 'Oh... Yeah, if he's anything like his dad I want noting to do with him.'"
He added: "People judge you. They think you're rich, and I wasn't. My dad's blown all his money and I grew up in a very poor time - basically living hand-to-mouth, gig-to-gig my whole life."
The musician further explained how he remembers his first 5 years of life as living an awesome life with plenty of money around, only for it all to crumble when he was 6.
"By the time I was 8 or 9, we had no hot water in the house. By the time I was 13-14, I was living on the streets," Kofi said. "Growing up in that house was amazing - every wall was a different color, there were golden albums on all the walls, which I thought was normal. I thought when you went to other people's houses, 'Why you don't have all these records on your walls?' ... I remember going to bed and they were having big firework parties all night."
Asked whether he holds a grudge against his dad for wasting all that money, Kofi replied: "He really lost his money through one thing only - polo. You need to have all these horses and it's a lot of money to keep up.
"My dad was kinda stupid because he made all this money and then stopped making money and just spent it. He didn't invest, he just ran up a big bill and they took the house. Recently, in 2005, he made $5 million [from Cream reunion shows], and now he's totally broke again. And he says, 'Kofi, I should be on a desert island sipping Bacardi and Coke! And I'm like, 'Yeah dad, I should be sitting right next to you! [Chuckles] You didn't have to screw it up for everybody.'
"But that's just my dad - he just doesn't think about the future. He thinks he's gonna die tomorrow, so let's just spend everything today. That's just his attitude. Now he's got some wife that spends all his money for him, they've got some sort of deal - she looks after him and he pays everything for her. That's just how he does it, which is kind of a shame because he's never really been around as a dad for me.
"It's such a shame, because we're drummers, we could have such a great relationship..."
During the rest of the chat, Kofi said his dad barely communicates with him anymore and pretty much only worries about his wife and their new family. You can take a listen here.
Other acts Kofi was involved with over the years include OHM featuring ex-Megadeth guitarist Chris Poland, as well as Uli Jon Roth and more.