GN'R's Duff McKagan: I Started Taking Bass Lessons Again, Learning Theory, Playing With Fingers
"Before we play a show, I play for like two hours, which is something I didn't do back then."
jomatami
Ultimate Guitar

jomatami
UG News editor since early 2013. King Crimson fan. I handle the 'news' around here.
Posted Oct 20, 2017 02:11 PM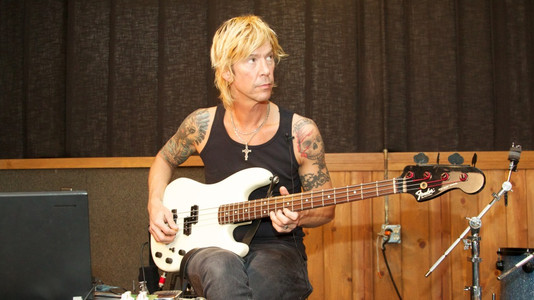 Guns N' Roses bassist Duff McKagan talked about rediscovering his passion for bass in the past decade, saying on Talk Is Jericho (transcribed by UG):
"I play with my fingers a little bit now. I really got into bass.

"Eight to 10 years ago I started taking lessons, and I got re-inspired on the bass. I went to learn some theory and stuff - I learned some theory and I kinda threw it away.

"But I started playing with my fingers, expanding my knowledge. Before we play a show, I play for like two hours, which is something I didn't do back then.

"But we played so much, we rehearsed so much that I didn't have to go home and play. Home was actually the place we rehearsed. [Laughs]"
Focusing on the gear he's using these days, Duff noted:
"The basses I play every night, they're Fender Jazz specials, they all made them for one year. They were made in Japan, and I got one.

"It's the Rotosound strings I used with it. The GK head I used with that. Seymour Duncan pickups. The pick... it's the whole thing that creates this tone. And I use the same stuff."
Asked if he found it difficult to get back into the groove with the reunited GN'R, McKagan replied:
"It wasn't hard. Those songs are part of your makeup. So your body kind of adheres to... I remember, I listened to 'Appetite [for Destruction],' I played along to it. I have this little setup where I can play along to music.

"First time I played cover songs was just recently, Kings of Chaos thing. Like Deep Purple, ZZ Top, like paying those songs, 'Woah, this is cool!' Aerosmith songs, playing them like real, like a cover band but you're playing with Steven Tyler.

"So it was the first time I played cover songs - I got this little setup where I got these blasters that plays the music, and I have this little bass amp. And I learned the songs, I played them over and over and over, and learn them.

"I don't read music, I don't really need to. You just get into tuning, whatever it is.

"Some of those old '70s songs, they weren't really in tune with anything, so you gotta tune to the record. So I had my little setup. I put the 'Appetite' up and played through the record. Then 'Illusion' songs, and then got into 'Chinese Democracy' songs.

"Axl put a lot into that record. I think Slash and I were challenged with like 'How do we make these kind of ours now?' So we gotta take ownership of these. And we went in, and we learned them first and then went in and started playing with Frank [Ferrer].

"And then Richard [Fortus] came in, like 'Let's tear these songs down first to really know them.' So it was just Slash and I and Frank playing some of these songs. But with all the 'Illusion' stuff and 'Appetite' it didn't take long at all. It took a day."