Industry Roundup: What is Tastebuds, the Music Dating Site?
A site that matches you with people who share your exact music taste is proving so popular - would you join? Also, Led Zeppelin's managers say the band almost certainly won't play live again, and Jimmy Page's solo project has stalled.
Unregistered
Ultimate Guitar
Posted Apr 24, 2013 03:08 PM
- Would you join a dating website if it connected people based on your music taste? That's exactly what Tastebuds.fm tries to do, and it.'s proving so popular that it just earned $600,000 in funding.
It starts by scanning your music listening habits from either Last.Fm or Facebook, then matches you to other people who like the same style of music. From there, you can filter the results by age, location and nationality to help you find your dream partner. If you use Spotify, Tastebuds even has a built-in app in which scans your library to find matches from there. Over 50,000 people have joined through Spotify since May 2012 - a good sign that there's plenty of people to find on there.
You don't have to look for dates, of course. Tastebuds is a good engine for finding local like-minded music fans to be friends too, and the site doesn't promote itself specifically for dating (though it did when it first launched a couple of years ago).
"Tastebuds has proven to be an extremely effective social connector as a massive 43% of first messages sent get a reply," says co-founder Alex Parish.
It's more than just a social app, because Tatebuds has a radio feature which intelligently plays music that other people with your tastes have been listening to as well - even if you don't know them. This is perfect for people who feel their real-life social circle don't have music tastes that match their own, because you don't even have to be friends with other people on Tastebuds to get the benefits of their music taste.
Maybe the biggest thing that Tastebuds has managed to do is make joining a dating site relatively cool. Few people would join a random dating site, but when a person's music taste speaks louder than their profile which could be full of lies, you can have some faith that what you're looking at is the real deal.
Would you join? Let us know what you think of Tastebuds and its take on music dating in the comments. [Hypebot]
- Led Zeppelin really won't be reuniting for another live tour, according to their managers at Q Prime.
The management company who looks after the likes of Metallica, Red Hot Chili Peppers and other premium talent were answering questions in a Reddit AMA session when one fan asked if their guts say they will play another live show. "Honestly, my gut tells me they won't," Q Prime replied.
They added that guitarist Jimmy Page is busy digging through his old recordings for an upcoming Zeppelin box set and has made "no progress" on his forthcoming solo album, which will be a disappointment to fans.
Among the AMA's jokes and rock anecdotes was a story about the "dumbest request" Q Prime have ever received from one of their artists was from AC/DC: "I was in London. They were in Paris. (Drummer) Phil Rudd wanted hot water because his kettle was broken," says one of the Q prime staff. "He called at midnight to ask me to bring over hot water... Wish I had told him I would charter a flight to bring him a kettle and billed it back. Needless to say, I didn't go." [Billboard]
- Some countries are going bananas for streaming, but they don't include the US. A new graph shows how much streaming vs. traditional sales varies dramatically in each country, with Scandinavian countries and South Korea being the biggest streaming fans.
Two theories stand regarding its popularity there: first, Spotify started in Sweden and has had much longer to dig itself into society. Second, South Korea has had blazing-fast internet speeds for years, so streaming live content (whether it's audio or video) is much more normal, even to mobile phones. Compare that to certain Western countries where mobile data rates can be costly, and it goes some way to explaining the difference. But as we've discussed in the past, streaming is growing at a stellar rate in the West, so this graph would likely look very different in another year.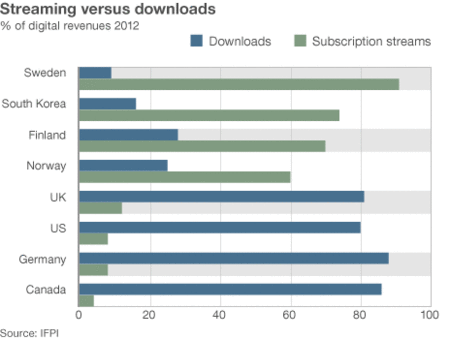 [Hypebot]
That's the end of our industry roundup this week.
What do you make of Tastebuds, the music dating site? Have you heard of a crazier request than AC/DC's one for hot water from another country? And will streaming pick up in the US as is has in Sweden?
Share your thoughts on the latest music industry developments in the comments, and we'll join you in the debate.