James Hetfield: I Think Phones Ruin the Live-Show Experience, But I Don't Support Banning Them
Enjoy the show however you want, Metallica frontman says.
jomatami
Ultimate Guitar

jomatami
UG News editor since early 2013. King Crimson fan. I handle the news around here.
Posted Jan 06, 2017 02:02 PM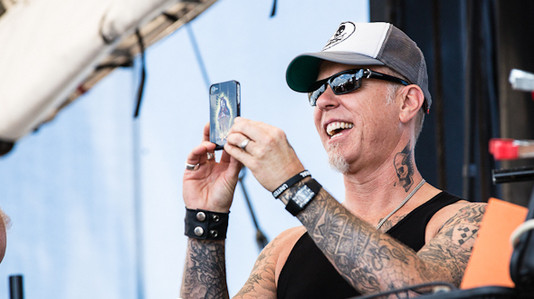 Metallica frontman James Hetfield shared his thoughts on fans filming shows with phones, saying that while he's against it, he simply can't support banning the crowd from enjoying the show like that if that's how they want it.
He said on the Nerdist Podcast: "It is somewhat frustrating when you look out and you're [into it] and everyone's got their screens [up]. It's kind of robotic-army looking; everyone's looking through their screens at you. It's really bad when someone's got an iPad. [Chuckles]
"But what are you gonna do? We can't enforce anything - 'Don't bring your this and that.' You come to the concert, you're gonna celebrate it however you want. If you wanna remember you in that moment, that's great. You singing - better than me - into your phone, [laughs] and playing it later to someone who doesn't give a shit. [Chuckles]
"Or there's 500 YouTube things from the same angle. We got no control over that. You enjoy it how you wanna enjoy it. I just wonder if later on you'll be thinking, 'Damn! I have it memorized here, but I didn't feel it!' So it's up to them..."