Joe Satriani: The Guitar Thing Paul Gilbert Absolutely Beats Me At
"He just lifts everybody up."
jomatami
Ultimate Guitar

jomatami
UG News editor since early 2013. King Crimson fan. I handle the 'news' around here.
Posted Jul 17, 2017 12:41 PM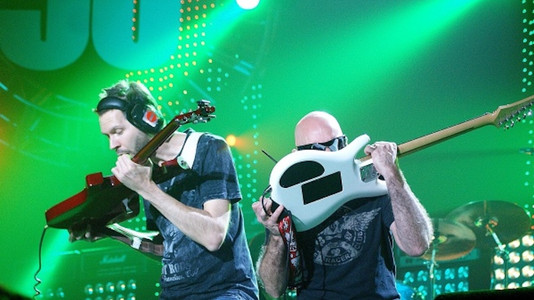 Joe Satriani sang praises of fellow guitar master Paul Gilbert, telling UCR:
"Paul's one of those guys that can really play anything, and I'm not.

"Paul's one of those guys who covers so much ground. He's so good at playing so many things.

"I definitely express to the campers [who attend the G4 Experience conference] how much I'm hoping to pick up, even at this late stage in my development.

"I'm always hoping that I'm going to pick something up from Paul that's going to improve my playing, because he plays so well.

"Besides the fact that his attitude and positive energy is so infectious that it's just fantastic to have him there as part of the proceedings. He just lifts everybody up."
This year's G4 Experience will take place from July 24 to July 28 in Carmel, CA, featuring Joe, Paul, Def Leppard's Phil Collen and Warren DeMartini of Ratt.