Judas Priest: 'Metal Is Eternal, That's the Power of It'
Singer discusses the unstoppable force of metal and new album "Redeemer of Souls."
UG Team
Ultimate Guitar

UG Team
UG editorial team. A group of people who are passionate about guitar and music in general.
Posted May 22, 2014 03:12 PM
Judas Priest vocalist Rob Halford recently discussed the band's upcoming studio effort "Redeemer of Souls," calling the immense force of the metal genre "eternal."
Chatting with Loudwire, Rob noted, "Forty years later, we're still making what we feel is some of the best metal of the genre from Priest. So, that was where the attention was to make a record that embodies everything that you love as a Priest fan, and everything that you love about classic metal.
"So, it was that and it was also the word relentless - let's keep it relentless, let's not take any steps back. So, from the opening, thundering storm of 'Dragonaut' through all the way to the final rallying cry, 'Battle Cry,' and then the cool down song, as it's getting to be called 'Beginning of the End,' it's just nonstop. It's roaring, I think it really sends a strong, strong signal that Priest is back again," the singer continued.
Focusing on the writing process and Richie Faulkner's contributions, Halford added, "Everything on 'Redeemer of Souls' has come from Tipton, Halford and Faulkner and it was just really exciting to be in the studio while these songs were being born because, that's literally what happens. You go in the studio with nothing and then at the end of the day you may have a tune that's going to be around a lot longer than you are.
"That's the power of metal, metal is eternal."
The record is due on July 15, more details on the official website.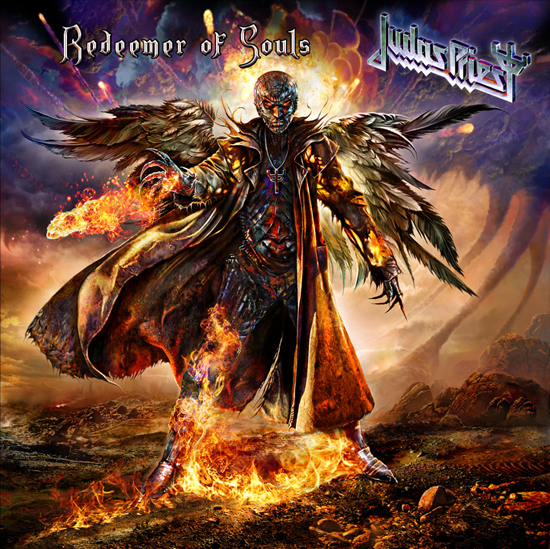 "Redeemer of Souls" track listing:
01. Dragonaut
02. Redeemer of Souls
03. Halls of Valhalla
04. Sword of Damocles
05. March of the Damned
06. Down in Flames
07. Hell & Back
08. Cold Blooded
09. Metalizer
10. Crossfire
11. Secrets of the Dead12. Battle Cry13. Beginning of the End
Bonus songs:
14. Snakebite
15. Tears of Blood
16. Creatures17. Bring It On18. Never Forget