Kerry King: Slayer Songs I Honestly Hate
"I hate the opening riff. It's what we call a 'happy riff.'"
jomatami
Ultimate Guitar

jomatami
UG News editor since early 2013. King Crimson fan. I handle the 'news' around here.
Posted Jul 17, 2017 10:29 AM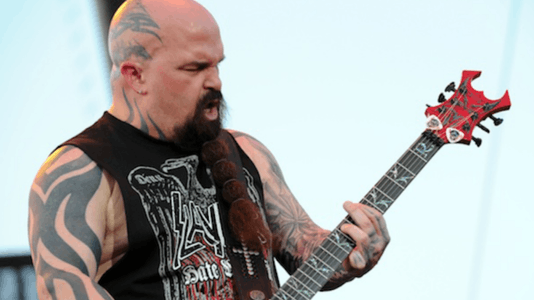 Guitarist Kerry King discussed Slayer songs he's not a fan of, telling Rolling Stone:
"Somebody was telling me [Iron Maiden bassist] Steve Harris hates [the 'Invaders' track off 1982's 'The Number of the Beast'].

"But I get it, because there's a handful of songs in our history that I'm like, 'Goddamn, I hate that song.'

"Like, I fucking despise 'Desire' and I hate 'Cleanse the Soul.'

"But when 'Invaders' came up, I'm like, 'Wow, I like 'Invaders.'' And then I tried to start thinking about why he would hate it. It just sucks, I don't get it.

"But he's close to it, like I'm close to my songs, so there you go. You're more than welcome to your opinion, Steve. You wrote it."
Desire
"Desire" was released on Slayer's 1998 record "Diabolus in Musica," which Kerry clearly singled out as his least favorite record in the band's catalog on several occasions.
It features music by late Jeff Hanneman and lyrics by Tom Araya.
Cleanse the Soul
"Cleanse the Soul" was released on 1988's "South of Heaven" featuring music by Hanneman and lyrics by Hanneman and King.
Kerry previously said about the track:
"That's one of the black marks in our history, in my book. I just fucking think it's horrible. [Laughs]

"I hate the opening riff. It's what we call a 'happy riff.' It's just like 'la-lala-la-la-la.'

"I can't see myself playing it, but after that, where it gets heavier, I like that section. If we ever did a medley, I'd put part of that in there."