Kirk Hammett: This Is the Best Advice I Can Give to Young Guitarists
"There's a lot of bands out there, a lot of music, and a lot of it sounds similar," Metallica guitarist says.
Ultimate Guitar

jomatami
UG News editor since early 2013. King Crimson fan. I handle the news around here.
Posted Apr 21, 2017 04:17 PM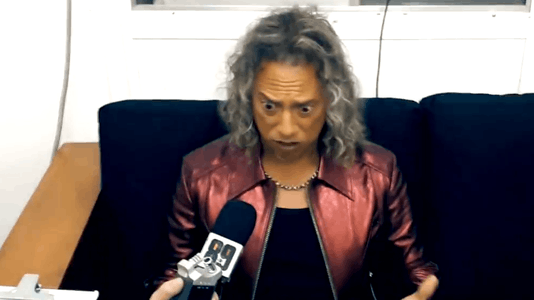 Kirk Hammett was asked by 89FM about the top word of advice he has to offer to aspiring guitarists, to which he replied (transcribed by UG):
"It's important to be original and have something different to offer.
"There's a lot of bands out there, a lot of music, and a lot of it sounds similar. If you really want to be successful, you have to find a sound that's unique, a sound that you feel comfortable with so that you can let it grow inside of you.
"Just be original. Try to have original thoughts.
"It's OK to be inspired, it's OK to be moved by other types of music and art, but it's really important to aspire to something different that hasn't been done.
"It might sound overwhelming, but that's how new things get discovered. You gotta take the first step."
Metallica guitarist added: "When 'Kill 'Em All' first came out [in 1983], we were the odd guys on the block. No one wanted anything to do with us; we were like pariahs, like lepers. People would hear we were coming, and if they weren't fans they would turn around and run the other way.
"But eventually, people came to understand us and that what we were doing was different and new, that we had something different to offer."
He concluded: "My point is: use some different colors, different techniques, a different approach - it will be interesting!"

In related news_backup, Metallica recently premiered more footage from their March show in Mexico City. You can check out "Ride the Lightning" and "For Whom the Bell Tolls" below.