Kirk Hammett: Why We Made a Video for Every Song Off New Album & How Much It Cost Us
Guitarist also reveals an older Metallica song he'd like to record a video for now.
jomatami
Ultimate Guitar

jomatami
UG News editor since early 2013. King Crimson fan. I handle the 'news' around here.
Posted Apr 20, 2017 11:31 AM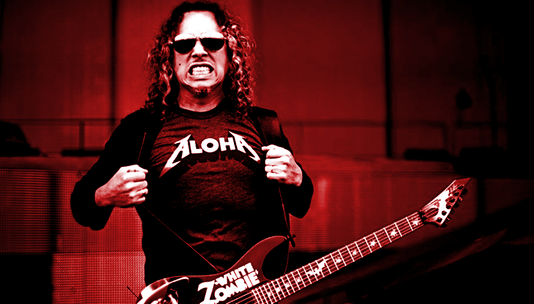 Kirk Hammett was asked by Andy Hall on why Metallica made a video for every song off the "Hardwired" album, to which he replied (via Blabbermouth):
"It really gives us an knee up on all the situations where a band puts out a new album and someone hears a new track and decides, 'Oh, I'm gonna make a YouTube video around this track,' and then all of a sudden that becomes the predominant YouTube video for that song.
"That's a pretty common thing that happens in the YouTube world, and we were aware of that. So we wanted to take matters into our own hands and make sure that the video that we made for the song was the predominant video that everyone saw for that song, rather than someone else's vision of the song itself."


Focusing on the financial aspect, the guitarist added: "It's crazy how much cheaper it is [to make videos these days].
"The 'One' video cost us a lot of money [in 1988] - six figures - we were just blown away by the cost. You couldn't figure it out, why it would cost so much.
"Jump to 2016, 2017, a typical video that we made for 'Hardwired' nowadays cost between 15 to 20 grand. It's totally amazing how much cheaper it is.


"A lot of that is because of digital technology, things are smaller, things are more lightweight, more stealth. You can even use your iPhone to make a video if you really wanted to, and then lose it."
Asked whether there's an old 'Tallica track he'd like to make a video for now, Hammett replied: "It would be interesting for us if we just retroactively decided to make a video for a track that we never made a video for - say, 'Carpe Diem Baby' off 'Reload.'

"I don't know if we would actually find the inspiration to do something like that, but who knows? Maybe people will start doing retroactive videos."


Kirk also noted during the chat: "Some of the ['Hardwired'] videos that we made, I think, are some of the best videos we've ever made. The video for 'Dream No More' is just totally amazing and reminds me of a Kenneth Anger film that was filmed in maybe the '50s or '60s. From an artistic point of view, I think it's really cool.



So while we're at it - which older Metallica tune would you like to see a new video for?