Marcus Miller: The Most Overlooked Crucial Skill Every Bassist Should Work On
"Drummers don't even notice: they say, 'Hey man, we play real good together.'"
jomatami
Ultimate Guitar

jomatami
UG News editor since early 2013. King Crimson fan. I handle the 'news' around here.
Posted Jul 14, 2017 01:52 PM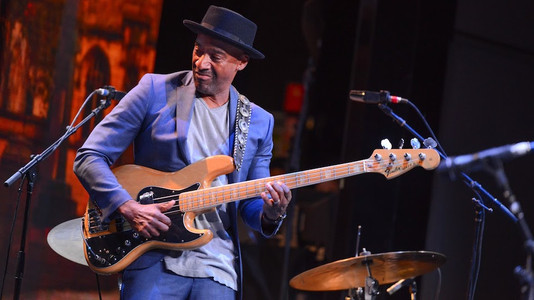 Marcus Miller talked bass stuff with Music Radar, saying about the power of properly locking in with the drummer:
"Locking in is a skill that a lot of players overlook, and it is very important.

"As a studio musician, you learn to lock in with a lot of different drummers, and of course, they're all different.

"They all have a very different way of playing. Sometimes it's ba-boom; other times it's baaa-boom!

"To everyone else who's listening, they sound the same, but the bass player's job is to find that sweet spot and hold it with the drummer.

"Some play on top of the beat, some sit behind it, some go a little in front. Your job is to figure out which way it is, and match it.

"Drummers don't even notice: they say, 'Hey man, we play real good together.' And I say, 'No man, I play real good with you - it's me making all the adjustments here!'"
Marcus also discussed his sound and musical vibe, saying:
"On the bass, I'm very influenced by vocalists.

"From producing Luther Vandross, you can imagine how much I learned about what really goes into singing - tone, phrasing, the idea that being in tune isn't always right, and when to use vibrato.
"You hear fretless players always playing with vibrato to hide the fact their intonation is out: you can use it to round a note off, but if you don't work with a singer, or you don't sing yourself, you won't really understand it. Even singers get it wrong!

"As human beings, if you can own whatever it is you got, you can win. People respect that."