Martin 'Pharmadouche' Shkreli: Kurt Cobain Would've Loved Me If He Was Still Alive
As you may or may not know, Martin is reportedly in possession of lost, never-before-heard Nirvana music.
jomatami
Ultimate Guitar

jomatami
UG News editor since early 2013. King Crimson fan. I handle the 'news' around here.
Posted Jan 11, 2017 03:00 PM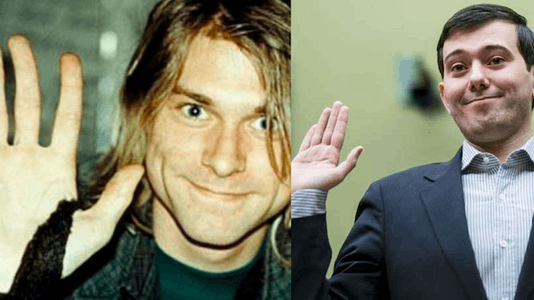 Journalist Doug McCausland of Alternative Nation recently spoke to Martin Shkreli, aka Pharmadouche, the entrepreneur who made a fortune by raising the price of the antiparasitic drug Daraprim 56 times, taking it from $13.5 to $750 per pill.
Doug asked Martin about the lost, never-before-heard Nirvana music the entrepreneur reportedly has in his collection - which he also promised to release to the public if Donald Trump won the election, and which he ultimately never did.
You can read the transcript of the Facebook video conversation below.
Doug McCausland: Is it true you have unreleased Nirvana music?
Martin Shkreli: Depends on what you consider Nirvana.
DM: Well, what is it then?
MS: That's for me to know and for you to never find out.
DM: You said you'd release the music if Donald Trump was elected! I think you did, at least.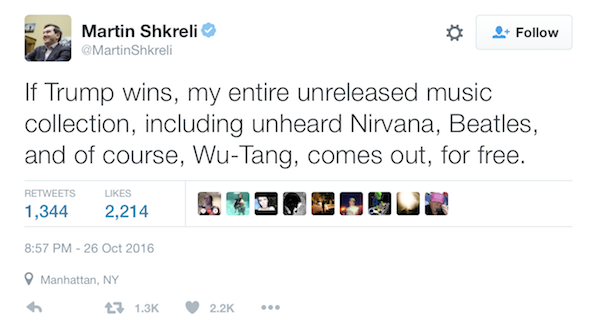 DM: What would you think Kurt Cobain would think of you if he was alive?
MS: Oh, he would've loved me.
DM: Really? Why's that?
MS: We're both really similar, aren't we? We're both rebellious. You know, I spoke to Courtney Love.
DM: What did she have to say?
MS: What do you think?
DM: I don't know, man. I think you represent everything he would have hated.
MS: I don't think so. What did he hate? Homophobia. Racism.
DM: Right. And you seem like on opposite ends of the spectrum.
MS: How so?
DM: Don't you sort of represent the corporate end of things that he hated?
MS: He signed to Geffen, he always spoke of 'selling out.' Maybe you should actually know what you're talking about before you call.
DM: Oh, I know all about him.
MS: Right, okay.