Marty Friedman: This Was the First Song I Ever Learned on Guitar, I Didn't Even Like It
"It had only two or three chords."
jomatami
Ultimate Guitar

jomatami
UG News editor since early 2013. King Crimson fan. I handle the 'news' around here.
Posted Aug 22, 2017 12:14 PM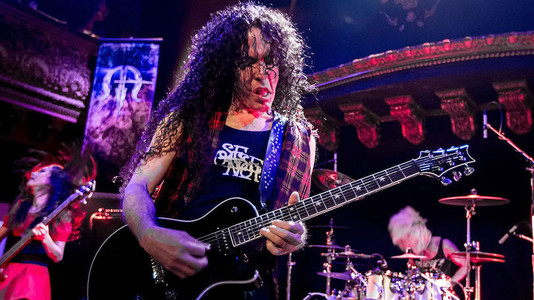 Marty Friedman was asked by Guitar World to single out the first song he ever learned on guitar, to which he replied:
"A pretty unknown album track by Rush called 'Bacchus Plateau.' It had only two or three chords.

"I didn't like it much, but at least it was cooler than 'Dreams' by Fleetwood Mac, which the entire school was learning.

"That song had even less chords in it. Not until I became an adult did I realize what a great song 'Dreams' is and what a true god Lindsay Buckingham is."
Still discussing his early days, Marty noted:
"No one in my family is musical at all, and music wasn't my first choice by a long shot.

"I was completely into sports. I loved all the major sports, football, baseball, hockey and basketball. I wasn't horrible at any of them, but I certainly wasn't what you would call good.

"I did make the junior high basketball team, which tells you how crap they were. I was always kind of emaciated and bony, so I had the perfect body type for either a rock star or a drug addict, so I decided to go for the former."
"Bacchus Plateau" is the fifth section from Rush's 20-minute composition "The Fountain of Lamneth," originally released on their third album, 1975's "Caress of Steel."
Marty released his latest studio album "Wall of Sound" on August 4 via Prosthetic Records as the follow-up to 2014's "Inferno." You can stream it in full below.
'Wall of Sound' track listing:
1. Self Pollution
2. Sorrow and Madness (featuring Jinxx of Black Veil Brides)
3. Streetlight
4. Whiteworm
5. For a Friend
6. Pussy Ghost (featuring Shiv Mehra of Deafheaven)
7. The Blackest Rose
8. Something to Fight (featuring Jorgen Munkeby of Shining)
9. The Soldier
10. Miracle
11. Last Lament