Mastodon, Dillinger, Gojira and More Added to Soundwave 2014 Bill
Could this be the ultimate rock fest of 2014? Full lineup inside.

UG Team
UG editorial team. A group of people who are passionate about guitar and music in general.
Posted on Nov 08, 2013 12:32 pm

Australia's Soundwave Festival 2014 recently received several notable lineup additions, including US metallers Mastodon, French heavy masters Gojira, mathcore icons the Dillinger Escape Plan and young forces of rock Black Veil Brides. A lengthy group of bands made the packed roster even heftier, as the previously confirmed performers include Megadeth, Testament, Green Day, Alice in Chains, Avenged Sevenfold, Stone Temple Pilots with Chester Bennington, Korn, Alter Bridge and much more. The Soundwave trek will stretch across five cities during late February and early March, making it without a doubt one of the strongest rock and metal events of 2014. So without further ado, check out the full list of announced performers so far, as well as the detailed tour schedule below. More info on the official website. Soundwave Festival 2014 New Bands:
A Day to Remember
Mastodon
HIM
Jimmy Eat World
Glassjaw
Panic! at the Disco
Eagles of Death Metal
The Dillinger Escape Plan
Less Than Jake
Mayday Parade
Sevendust
Crosses
Suicide Silence
The Porkers
Gojira
Black Veil Brides
Zebrahead
Satyricon
Dream on Dreamer
Mutemath
Desaparecidos
Stiff Little Fingers
Thy Art Is Murder
Graveyard
Dir En Grey
Deez Nuts
In Hearts Wake
Breathe Carolina
Defiler
I Call Fives
Hacktivist
Devil You Know
Soil
The Boss Hoss
Uncle Acid and The Deadbeats
Nostalghia
Upon a Burning Body Previously Confirmed Performers:
Green Day
Avenged Sevenfold
Stone Temple Pilots (feat. Chester Bennington)
Alice in Chains
Rob Zombie
Megadeth
Placebo
AFI
Korn
Alter Bridge
Trivium
Down
DevilDriver
Newsted
Biff Clyro
Rocket From the Crypt
Asking Alexandria
Clutch
Alkaline Trio
Baroness
Five Finger Death Punch
August Burns Red
Testament
Living Colour
Letlive
Motionless In White
Gwar
The Black Dahlia Murder
Mushroomhead
Finch
Pulled Apart by Horses
Ill Nino
Nancy Vandal
Bowling for Soup
Trash Talk
Skindred
Volbeat
Amon Amarth
Terror
Whitechapel
Tesseract
The Story So Far
Hardcore Superstar
10 Years
Walking Papers
Our Last Night
Coliseum
Your Demise
Heaven's Basement
Real Friends Soundwave Festival 2014 Itinerary: 02/22 - Brisbane - RNA Showgrounds 02/23 - Sydney - Olympic Park 02/28 - Melbourne - Flemington Racecourse 03/01 - Adelaide - Bonython Park 03/03 - Perth - Claremont Showgrounds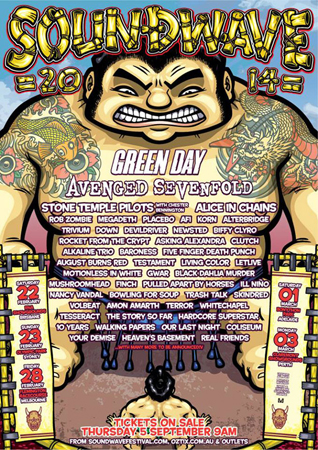 So could this turn out to be the biggest rock festival of 2014? Let us know in the comments.
AH! I wish I lived in Australia
I find it interesting that everyone here is "jealous" of the lineup yet a ton of people out here in Australia are having a sook over how weak it is. Personally I'm beyond excited
Yeah exactly on the Facebook page all people are doing is complaining and saying it's the worst line-up ever as usual. I mean it really annoys me that we get a festival lineup down here that is on par with a major one like Download and all most people do is just whinge about it
Didn't even know the Stiff Little Fingers were still going, Inflammable Materials a great album.

No Karnivool? Surprising considering it's Australia!
Karnivool already are doing co-headline shows with Dead Letter Circus a few weeks before Soundwave, that's probably why
I was wondering if Ne Obliviscaris or Be'lakor were going to be performing too, but their names aren't on there. Ne Obliviscaris is definitely one of the best up and coming metal bands and deserve to be on the stage with those guys.
there is still a third announcement to be made, so theres hope yet!
Not to mention the mighty King Parrot and Heaven The Axe!
I was hoping they would book Karnivool, Dead Letter Circus and Twelve Foot Ninja.. but theyre doing their own tours around the same time.. Plus AJ Maddah the promoter seems to not be the most avid supporter of the Australian scene... he seems to like bringing overseas bands a lot more... There's maybe 5-7 aussie bands on the lineup..
Soundwave usually doesn't do national acts. AJ Maddah reckons why use space on something you can just see locally, and I reckon he's right. Besides I live in Perth. Karnivool perform here like at least 3 times per year anyway
im just hoping that with QOTSA touring at the same time that Mr Homme jumps behind the kit for Eagles of Death Metal that would be the tits!
Man, this is awesome! Too bad it never comes to the US! haha
Holy shit this lineup is the tits!
Why can't any awesome festival even as quarter as good as this happen in Western Canada? Or Canada for that matter..
QOTSA/NIN tour plus Soundwave, why don't I live in Australia?
lucky aussies, that's an amazing line-up. beats the crap out of download, imho.
excellent line up. would love to see glassjaw again.
Screw it, I'm moving to Australia (South Africans, we have another reason to go now )
Dillinger and Jimmy Eat World at the same festival. Lol.
eh, not bad, but the lineup last time was much better
Bowling for Soup! I didn't even know they were still around! Stacey's Mom was awesome, as was a younger Rachael Hunter in the video :p
Fountains of Wayne sang Stacy's Mom, not Bowling For Soup.
they both sang it, FoW wrote it
starting to wish I bought a ticket to this show! damn it!
And the case for emigration grows and grows