Mastodon, Dillinger, Gojira and More Added to Soundwave 2014 Bill
Could this be the ultimate rock fest of 2014? Full lineup inside.
UG Team
Ultimate Guitar

UG Team
UG editorial team. A group of people who are passionate about guitar and music in general.
Posted Nov 08, 2013 12:32 PM
Australia's Soundwave Festival 2014 recently received several notable lineup additions, including US metallers Mastodon, French heavy masters Gojira, mathcore icons the Dillinger Escape Plan and young forces of rock Black Veil Brides. A lengthy group of bands made the packed roster even heftier, as the previously confirmed performers include Megadeth, Testament, Green Day, Alice in Chains, Avenged Sevenfold, Stone Temple Pilots with Chester Bennington, Korn, Alter Bridge and much more. The Soundwave trek will stretch across five cities during late February and early March, making it without a doubt one of the strongest rock and metal events of 2014. So without further ado, check out the full list of announced performers so far, as well as the detailed tour schedule below. More info on the official website. Soundwave Festival 2014 New Bands:
A Day to Remember
Mastodon
HIM
Jimmy Eat World
Glassjaw
Panic! at the Disco
Eagles of Death Metal
The Dillinger Escape Plan
Less Than Jake
Mayday Parade
Sevendust
Crosses
Suicide Silence
The Porkers
Gojira
Black Veil Brides
Zebrahead
Satyricon
Dream on Dreamer
Mutemath
Desaparecidos
Stiff Little Fingers
Thy Art Is Murder
Graveyard
Dir En Grey
Deez Nuts
In Hearts Wake
Breathe Carolina
Defiler
I Call Fives
Hacktivist
Devil You Know
Soil
The Boss Hoss
Uncle Acid and The Deadbeats
Nostalghia
Upon a Burning Body Previously Confirmed Performers:
Green Day
Avenged Sevenfold
Stone Temple Pilots (feat. Chester Bennington)
Alice in Chains
Rob Zombie
Megadeth
Placebo
AFI
Korn
Alter Bridge
Trivium
Down
DevilDriver
Newsted
Biff Clyro
Rocket From the Crypt
Asking Alexandria
Clutch
Alkaline Trio
Baroness
Five Finger Death Punch
August Burns Red
Testament
Living Colour
Letlive
Motionless In White
Gwar
The Black Dahlia Murder
Mushroomhead
Finch
Pulled Apart by Horses
Ill Nino
Nancy Vandal
Bowling for Soup
Trash Talk
Skindred
Volbeat
Amon Amarth
Terror
Whitechapel
Tesseract
The Story So Far
Hardcore Superstar
10 Years
Walking Papers
Our Last Night
Coliseum
Your Demise
Heaven's Basement
Real Friends Soundwave Festival 2014 Itinerary: 02/22 - Brisbane - RNA Showgrounds 02/23 - Sydney - Olympic Park 02/28 - Melbourne - Flemington Racecourse 03/01 - Adelaide - Bonython Park 03/03 - Perth - Claremont Showgrounds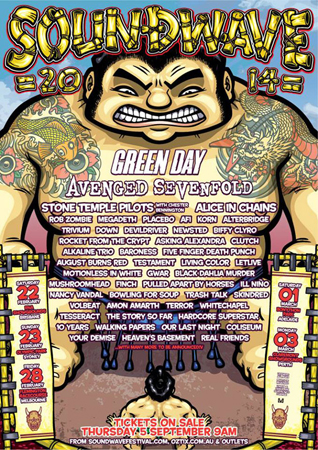 So could this turn out to be the biggest rock festival of 2014? Let us know in the comments.