Mastodon Drummer: 'I Understand People Who Don't Like Our Newer Albums'
"I feel that way towards some bands," Brann Dailor adds.
UG Team
Ultimate Guitar

UG Team
UG editorial team. A group of people who are passionate about guitar and music in general.
Posted Jul 03, 2014 11:40 AM
Mastodon drummer Brann Dailor recently discussed the attitude of fans who dislike the band's more recent efforts, calling it an understandable stance.
"I understand the stance," he said during a recent Reddit AMA. "I feel that way towards some bands. Especially when an artists career is long. People gravitate to specific albums.
"But, being in a band you have a different take. You can't be too concerned with the outside world. If we appease the fans of our earlier albums and made a record that sound like them and the fans hated it, we'd be frauds. It wouldn't be rewarding for anyone," Brann added.
During the rest of the Q&A, Dailor touched on the 2009 drum-off with Tool drum master Danny Carey, calling it a daunting task. "I love Danny. Fun playing with him. It was very nerve wracking. I didn't know the songs well. I should have been a little bit more prepared. I was an honor," he said.
The drummer also discussed the importance of David Lynch's "The Elephant Man," the movie that has inspired at least three Mastodon tunes - "Elephant Man," "Joseph Merrick" and "Pendulous Skin."
"He was so afflicted and the most grotesque human anyone had anyone laid eyes on," Dailor noted. "Yet still he saw beauty in the world. I saw the David Lynch film as a child and it always stuck with me. If you get the chance read the book 'True History of the Elephant Man.' It's pretty amazing."
Apart from sharing the epic photo below, Brann still didn't reply the most crucial, as well as the most upvoted fan question - "Do you really think it's acceptable to kill a man if he kills your goat?"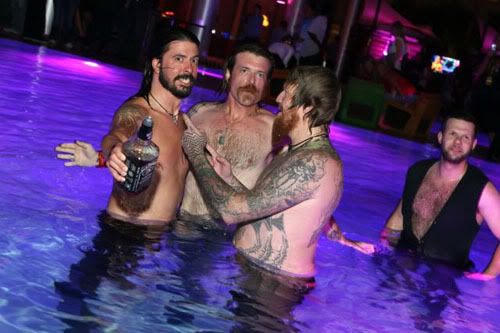 In related Mastodon news, the band's latest album "Once More 'Round the Sun" has landed at an impressive No. 6 spot on the US Billboard chart, selling 34,000 units in the States within the first week. You can still order the record via iTunes here.
Finally, the group's guitarist Bill Kelliher talked LARPing (Live Action Role Play) of all things, telling Rolling Stone that dressing up as Darth Vader from time to time is simply his thing.
"I don't know what the other guys do in the privacy of their own homes, but I have a Darth Vader costume with a light saber that I dress up in once in a while. I've gone to a couple of my kid's school functions dressed up as Darth and surprised the kids with a little lecture on listening to your teachers and staying in school. I don't know if that counts, but that's as far as my LARPing experience has gone."
While on the matter, Bill shared his expectations regarding "Star Wars: Episode VII," saying, "I'm just going to to keep my expectations low and hope for the best. I think it's going to be OK. Anything's got to be better than those f--king sh-tty movies that came out a couple of years ago."