Mike Inez: How Ozzy Reacted When I Told Him I'm Leaving His Band for Alice in Chains
"He looks me right in the eye and says, 'If you don't go we have to go to the hospital.'"
jomatami
Ultimate Guitar

jomatami
UG News editor since early 2013. King Crimson fan. I handle the 'news' around here.
Posted Sep 12, 2017 02:16 PM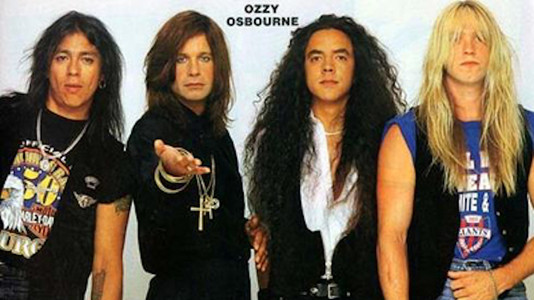 Bassist Mike Inez remembered leaving Ozzy's band in '93 after four years in the fold in order to join Alice in Chains - which happened after Mike clicked with the AiC guys when they were opening for Ozzy on tour - saying on The Rich Eisen Show (transcribed by UG):
"We were mixing the double live album [1993's 'Live & Loud'] we did with Ozzy; we're up in Reno, Nevada in the snow. It was a nice sunny day - snowy day.

"I say 'Ozzy, I've gotta talk with you.'

"So we walked outside and I said, 'Alice in Chains guys want me to go to Europe.'

"And then he looks me right in the eye and says, 'If you don't go we have to go to the hospital.'

"I said, 'Why?' And he said, 'Because it's gonna take them about a week to get my foot out of your ass!'

"He really was pushing for it. He said, 'You really seem to get along with those guys great. They are a fantastic band.'

"We still have the great relationship with Ozzy to this day, and his family."
During the rest of the interview, Mike and Jerry Cantrell talked about how they met. You can check out the chat below.
Jerry: "We were opening for [Ozzy] in '91. And Ozzy took us out - we were on the tour for like six months. He keeps asking us to keep doing the leg, because we got along so well."

Mike: "It was on the [1991's] 'No More Tears' cycle, and you guys have just started the [1992's] 'Dirt' cycle. Great album, by the way."

Jerry: "Oh, thank you! Yours wasn't too bad either."

Mike: "[Laughs] Oh, thank you sir! We worked really hard."

"I [got poached from Ozzy], I think I'm one of the few people that actually left Ozzy's band. We were like at the tail of the 18-month tour, and they [Alice in Chains] were just starting up their tour."

Jerry: "We were in the middle of it. We decided to part ways with [Mike] Starr, and in South America we gave you [Mike] a call, and you said 'Okay! I'm up for it.' So he gets all his shots for South America, and then Mike wants to do the South American show, so he got sick with all this immunizations for a couple of days."

Mike: "I had like radiator fluid in my veins. [Laughs]"

Jerry: "He's been with us ever since."

Mike: "I think it was... We did three rehearsals, I think. With TV appearances and stuff it was like 27 gigs or something, 32 days and 16 countries. So that was our trial by fire."