Mike Mangini on Replacing Portnoy: 'The Whole Stigma of Replacing Someone Is Nonsense'
"Someone left their job and I took the job. End of discussion."
jomatami
Ultimate Guitar

jomatami
UG News editor since early 2013. King Crimson fan. I handle the 'news' around here.
Posted Sep 09, 2017 03:58 PM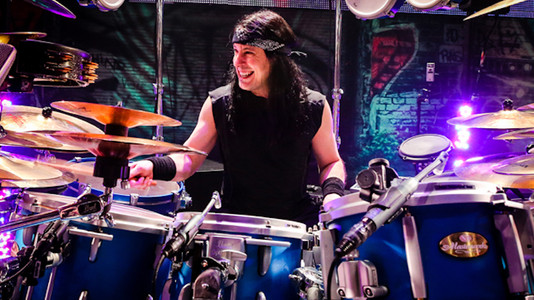 Mike Mangini talked about replacing Mike Portnoy in Dream Theater back in 2010, explaining to Rhythm Magazine when asked about the "extra pressure" of replacing one of the band's founders:
"The whole stigma of replacing someone is nonsense.

"Someone left their job and I took the job. End of discussion.

"Of course, it can't be that simple. The other thing is that I hurt my wrist and couldn't move it for eight days so I showed up [to the audition] not really being able to play the material.

"I was afraid that I couldn't do it. I had to go with the flow with what my sound was going to be.

"My experience with Vai helped me in showing up and playing what was needed to be played. It's not easy to do that."
Mike also addressed the rumors claiming his previous musical involvement with James LaBrie helped him land the gig, saying:
"There was speculation that my knowing James had anything to do with me getting the gig - people thinking that are sorely wrong. It had nothing to do with that.

"In fact, he couldn't play favorites because he was working with Peter Wildoer who is an incredible drummer. But, that previous relationship that I had with James was important because we got along."
Asked on how he ended up auditioning for the guys in the first place, Mike replied:
"It was first put to me when I saw that Mike quit. I got contacted by their management asking if I was interested in auditioning.

"I said yes and had two of the three busiest weeks of my life, it was awful timing. I had my first week of the year at Berklee and then I did eight clinics in nine days in South America.

"I was transcribing the music on the plane and I won the audition, go figure. I didn't have a lot of time to think. I just had to go do the best I could."
Asked on how he approached his first DT studio appearance - 2011's "A Dramatic Turn of Events" - Mike replied:
"I went into athlete mode. I always wanted to be an ice hockey player even more than a musician. Still to this day I don't read up on music, I don't buy a lot of records.

"I know sports statistics for the last 40 years but given what I do I don't know crap about music. So, I went into athlete mode and thought, 'What's the job, what do I need to do here?'"
Asked on how difficult was it to work on "The Astonishing" compared to "A Dramatic Turn of Events," Mike replied:
"It was 10 times as difficult in a way because I had already been in the band and then I had nothing to do with the creating, composing and polishing of what the record turned out as. I had less to do with it from beginning to middle to end.

"That was hard to just show up and play. I improvised it. I gave 120% to what I was asked to do. I had to just sit at my drum set, listen to guitar and piano and play to it. John Petrucci was clear on the material and that was helpful.

"I can trust John, if he has an idea for something I can go with the flow because I have that respect for him. It was the same with Steve Vai and also with Nuno Bettencourt."
Asked if Dream Theater's older material has evolved since he joined the band, Mike replied:
"If something has been done then it has been done already so I need to respect what's there. The way that I adjust it is through orchestration. I will flip things around, especially in my ghost notes on the hi-hat, ride and snare drum.

"The way that I change key signatures on my drums through tone is something else that I do differently to any other drummer that I have ever replaced. Yeah, it might be a simple beat but I might switch from lefty to righty.

"That might not be a big deal but when it is projected properly in the production and you can hear it properly exactly as I hear it, it makes a big difference."