New Software: This Is What Guitar Pro 7 Looks Like
GP7 set for release this April, "HUGE soundbanks" have been added to the mix.
jomatami
Ultimate Guitar

jomatami
UG News editor since early 2013. King Crimson fan. I handle the 'news' around here.
Posted Jan 23, 2017 04:11 PM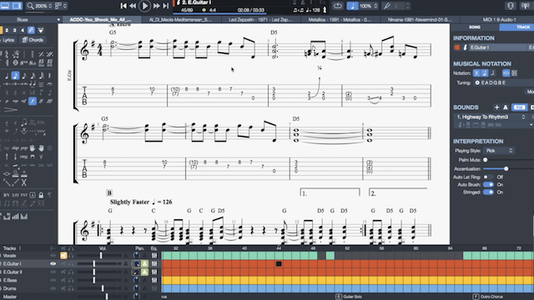 Audiofanzine checked in from this year's NAMM convention with a brief demonstration of the brand new Guitar Pro 7.

According to the report, the new software is set for release in April; you can check out some of the new features in the rundown below, make sure to watch the clip for a detailed report.

The developers from Arobas stated via official site: "We have decided to bring Guitar Pro 7 with us to NAMM and get direct feedback from our user community and our partners in the music industry. We've already gone through alpha testing in-house and will now be exposing our pre-release software to a wider range of equipment and real-world uses.

"We are bringing the Beta version to our users so as to bring the optimal final touches to the software. Our goal, as always, is to provide musicians with a new release that they will love because it makes our technology even easier and more enjoyable to use when you compose, play, or share your music."

The release further reads: "Guitar Pro 7 will offer significantly enhanced editing features, including the possibility of using tablature for any other instrument beside the guitar, new types of notation, and improved file-importing and -exporting. We have also redesigned the graphical user interface and sound management to make your using the software simpler, easier, and faster."

"Plug your guitar into your computer and enjoy the Guitar Pro effect presets. You will thus be able to emulate the sounds of your favorite songs, or create your own tone by using an amp and effect emulator that includes 14 guitar & bass amps, 40 effects pedals, and 500 presets. That way, you will be able to play everything you wish without the crazy cost of gear!"

As you may or may not know, Guitar Pro 6 was released way back in April 2010.

GP7 has been in development for several years. Back in June 2016, the developers said they were "working hard" to release the new software by the end of 2016.
New features in Guitar Pro 7
1. New interface, smoother layout, easier navigation
2. New feature: polyphonic tuner
3. New feature: line-in
4. New, "huge" soundbanks
5. Improved bending sounds, improved percussive sonic elements
6. New formats for exporting files, including Mp3