Nita Strauss: The Top Advice I Have for Guitarists Looking to Play Fast
"The most important thing and the most boring thing."
jomatami
Ultimate Guitar

jomatami
UG News editor since early 2013. King Crimson fan. I handle the 'news' around here.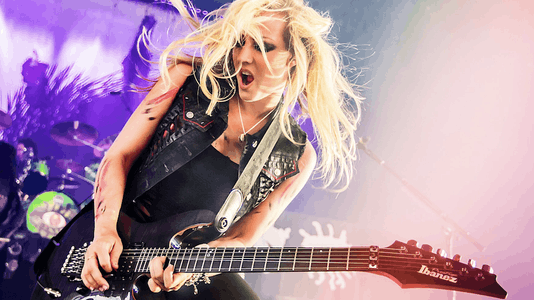 Nita Strauss was asked on the Sixx Sense to single out her top word of advice for all the guitar folks looking to go fast, to which she replied (transcribed by UG):
"I think the most important thing - and it's the most boring thing, but the metronome is so important.

"And playing slow is so important. What I do is I play it five times perfectly and then move 5 bpm. So 60, 65, 70, and so forth.

"I've heard conflicting things about this. Nili Brosh, she's another great guitar player, I just did a clinic with her. I watched her clinic and she said, 'The correct speed to practice is the one at which you make no mistakes.'

"And I was like, 'Hm, that's the opposite of what I do.' Because I try to build up fast, fast, fast. But then she goes, 'Your muscle memory will always be there, so you should practice it slow as many times as you want as long as you're practicing correctly.'"

"I think increasing by 10 bpm is a little much - I do 5 bpm and each time has to be five times perfect.

"If there's a little grace note you're only cheating yourself. You have to start from the beginning again.

"And my little trick is once I get to the speed I wanted I actually will go 5 to 10 bpm faster and work it up to that speed so when I go back to the normal speed it's easier."
Remembering her own beginnings in the six-string domain, Nita said:
"When I started learning guitar I was watching VHS videos. I had Yngwie Malmsteen 'Play Loud' and Marty Friedman 'Melodic Control.'

"And I had Frank Gambale 'Modes: No More Mistery.' You can find these clips on YouTube, he's wearing these silly '80s pants, and he's got dancing girls around him, he's doing these scales. And it makes scales seem fun."
Strauss also remembered bugging fellow guitarists to show her tips and tricks, saying:
"We were talking about never being done learning. When I was growing up, when I was playing shows when I was 13, 14, 15, I would go up to headlining band's dressing rooms and I'd knock on the door.

"I'd say, 'Hey I'm really sorry to bother you, we're playing before you guys. I know you're the guitar player, can I ask you a quick question? This tapping thing, could you show me how you do that?'

"And they would always be like, 'Yeah, come in!' I don't think it was much a chick thing because I was so young. I think it was more like, 'That's cool, you're taking initiative. Come on in, let's do it.'

"And I'd end up sitting down with the guys from Buckcherry and other bands we'd open up for, Skid Row... And just be like 'Hey, show me how you do that.'"