Nita Strauss: What I Have to Say to People Who Think I Reached Success Because I Have Boobs
Guitarist says she does her best not to be distracted by online negativity.
jomatami
Ultimate Guitar

jomatami
UG News editor since early 2013. King Crimson fan. I handle the news around here.
Posted Jan 31, 2017 07:40 PM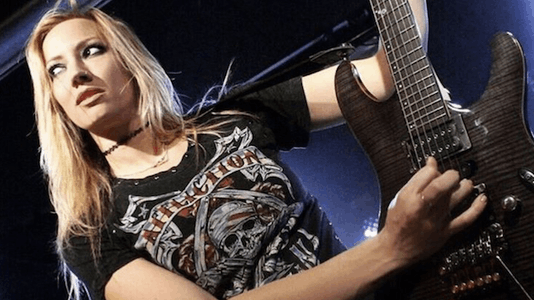 Alice Cooper's guitarist Nita Strauss recently addressed folks who insist that she became successful only for being a female with "a pretty face."
She told Ultimate Classic Rock: "It's funny, even now - I recently announced that I'm endorsing Marshall amps, which is such a cool, cool thing as a guitar player.
"I'm 30, and I've been touring since I was 15. So it's been a long journey to get here.
"You see a lot of people saying, 'Oh, well, she's only getting those guitars because she has a pretty face.' I try not to comment back on Facebook on all of the negativity too much, but I did have to say at one point, somebody was really starting in on me, naming all of these guitar players that were better than me that should have the recognition, that should be on the cover of Musician's Friend - which I was on the cover in December.
"'Why is she on the cover? Because she has boobs.' And I said, 'Well, when all of those guys spend their entire lives in vans, hungry, cold and tired, driving through the night, hoping to sell enough t-shirts at the next show to get you to the show after that, when all of those guys take time away from their families and studies and their friends to pursue their dreams, then they can be on the cover of all of those magazines."
You can check out Nita's recent solo single "Pandemonium" in the player below.