Periphery: Being Heavy Is Not About Low Tuning and Number of Strings, It's About Attitude
"A lot of people think all our songs are on 7-strings."
Ultimate Guitar

jomatami
UG News editor since early 2013. King Crimson fan. I handle the news around here.
Posted Jun 18, 2017 05:05 PM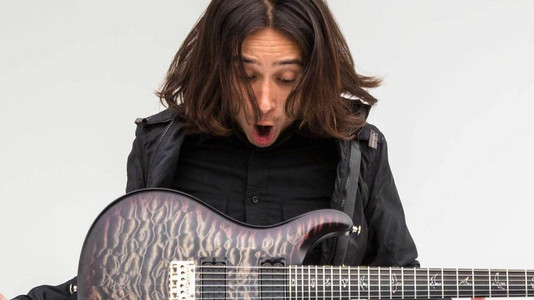 Periphery guitarist Mark Holcomb discussed the essence heavy music, telling Thomann Music (transcribed by UG):
"You can sound heavy in any tuning. To me, it's about intent; it's about writing, it's about the attitude of a riff, it's about what it embodies and how it comes across.

"And even lyrics! The lyrics can make a part seem heavy as balls!

"There's so many things - a freaking drum beat! A drum beat! If you put a straight four on the floor drum beat over 'New Groove' or 'The Walk' [off 2010's 'Periphery'] or something like that, it would be the least heavy thing ever.

"It's not about the riff, it's about everything coming together."
Mark also touched on this topic while discussing the band's approach to writing music, saying:
"We like to do our writing together in a room. I'm saying me, and Misha, and Jake - the three guitar players.

"We'll sit down and if Jake says, 'I've got this riff, check it out,' or Misha's like, 'Check out this riff!', and plays it. It's for the 'Marigold' [off 2016's 'Periphery III: Select Difficulty'] *plays the riff*

"The first time I've heard that, I was like, 'Oh god, this is gonna be a sick song!'
"But none of us said to each other, 'You know what would sound better? If we played it on the 8-string!' None of us ever do that because you start to lose the spontaneity and original sort of fire of the riff.

"The reasons that riff was crafted, that it just sort of sparked out of nowhere out of your head, it's an amalgamation of the tuning, the action on your guitar, your headspace...

"So once you start to swap out one of those variables, you could lose it. I can count on one hand the number of times - because we have done it - it'll either fail horribly, which happens more often than not, or it'll be successful.

"It happens sometimes, but not as much as you think. A lot of people think that our songs are on 7-strings, like all of them. Because they hear this note *drops the tuning of the sixth string down to A*

"You hear that note. So we have a tuning called drop A. *plays riff* They hear that. 'That's a 7-string! Damn I love those 7-strings.' It's not a seven string."