QOTSA: What's It Like Being a Band With 3 Guitarists
"There's no room for redundancy, and we won't play something if it doesn't need it."
jomatami
Ultimate Guitar

jomatami
UG News editor since early 2013. King Crimson fan. I handle the 'news' around here.
Posted Oct 16, 2017 12:47 PM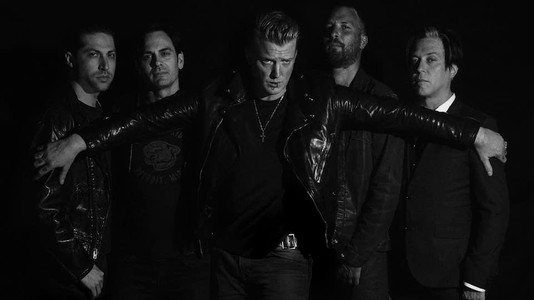 Queens of the Stone Age guitarists Troy Van Leeuwen and Dean Fertita talked about being a part of a three-guitar band, telling Guitar World:
"Having three guitar players can be challenging. There's no room for redundancy, and we won't play something if it doesn't need it.

"We arranged these songs [off latest album 'Villains'] with the intention of tracking them as live as possible, and keeping overdubs to a minimum.

"We figured if we can't play a part in the live scenario, it probably doesn't need to be there. That saved us from getting carried away in the studio.

"Another rule of thumb was, the cleaner the tone, the better.

"When Jimmy Page overdubs multiple guitars, like on 'In the Light' by Led Zeppelin, you'll notice each guitar is very clean.

"If there's fuzz, like on 'The Way You Used to Do,' you need to work a little harder to find just the right frequencies, but that can also be fun.

"It's very subtle, but I'm actually playing a 12-string on that song, which helped make the blend."
Fertita chimed in:
"I really wasn't sure how 'The Way You Used to Do' was going to shake out for me personally.

"It felt like a two-part guitar song, and it didn't really feel like it needed keys. I thought I was going to sit that one out.

"But then as we got into it a little bit more, we realized, 'Oh, there are a couple moments here where three guitars could be really effective.'

"That main riff, for instance. All three guys are playing different voicings in that, to make up the sum-total of how that riff. sounds. Our tones are all just different enough that they find their own space."
The guys were then asked if they see themselves "as having a specific guitar role in the band." Troy replied:
"A lot of what we do stems from Josh and what he brings in. He created the band and gives it his signature.

"The way I see it, I'll either support his part harmonically or juxtapose with the rhythm. But when it comes to live performance, there's a bit more wiggle room. If there's any chance to improvise, Dean and I are all over it."
Fertita said:
"I always just think, if I was writing the song, what would I think would be an important element to add to it. I try to approach my parts from a songwriting point of view."