Radio Still Ranked as No. 1 Source for Music Discovery, Study Finds
35% of Americans using radio to keep up with music, 21% relies on "word of mouth" info.
UG Team
Ultimate Guitar

UG Team
UG editorial team. A group of people who are passionate about guitar and music in general.
Posted Mar 31, 2014 02:00 PM
Although various new music sources and services were introduced in recent times, radio still ranks as No. 1 source of new music among Americans, the latest Edison Research and Triton Digital study points out.
As Consequence of Sound reports, 35% of Americans aged 12+ still prefer using radio to discover music, while 21% relies on "word of mouth" from friends and family.
YouTube comes as No. 3 top source with 10%, followed by Pandora, Facebook and TV. Check out the detailed infographic below.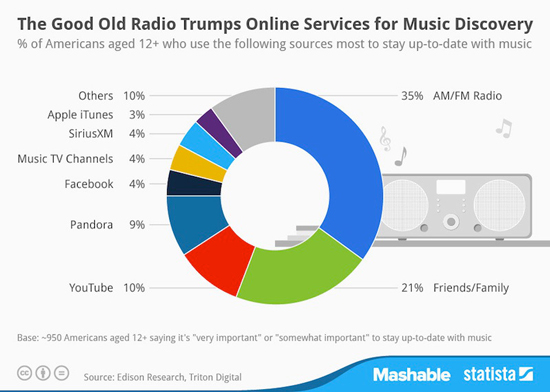 However, a separate study focusing on Americans aged 12-24 came up with significantly different data. This time around, YouTube was ranked No. 1, with 83% of the crowd noting they use the service to discover new music. Friends and family, and Pandora share the No. 2 spot with 71% each.
Once again, the second study proved the drastic drop of TV channels' influence in discovering new tunes. Check out the full details details below.