RHCP's Chad Smith: How I Joined Chickenfoot
"And he's like, 'We need to get a real guitar player!'"
jomatami
Ultimate Guitar

jomatami
UG News editor since early 2013. King Crimson fan. I handle the 'news' around here.
Posted Jul 14, 2017 10:56 AM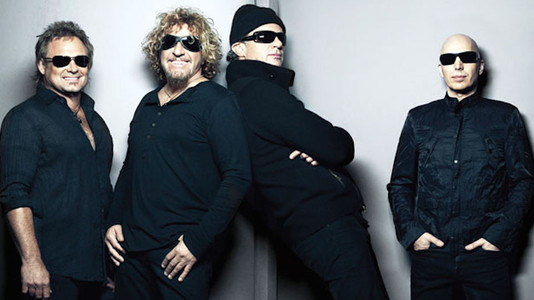 RHCP drummer Chad Smith explained how his involvement with Chickenfoot came to be, telling Eddie Trunk (transcribed by UG):
"I started the band! I've been in Cabo, and that's where I've met Sam [Sammy Hagar], and me and Mike and Sam would jam would jam at this club, and we had a great time.

"When you do that, when you play with other people - 'Hey we should do something!' 'Yeah, that'd be great!' And often it doesn't happen.

"But after Chili Peppers' 'Stadium Arcadium' tour in 2007, we said, 'We're gonna take a year off, no Chili Peppers, no nothing. We've been working for 10 years, just do nothing Chili Pepper-related for a year.'

"And I told Sam, 'If you wanna do something, now would be the time, because my day gig is on hiatus.' He goes, 'Great, let's do it, man!'

"And he's like, 'We need to get a real guitar player!' That sounds good, OK. He says, 'I'll get Joe!' And I'm like, 'You'll get Joe? Joe who?' And he's like, 'Joe Satriani.' Oh yeah, let's get Joe! That guy's pretty good. [Laughs]

"So I'm not saying my band, but it was my idea to start the band, but always knowing, look, I am in this other band, you know.

"And this will just be like a thing to do on a one-off, and we'll see what happens. And we had a jam in Vegas and it was so fun. Let's write some songs, and boom, it happened really fast.

"And we made a record, everybody loved it, and we went on tour. And then after that, I was like, 'I gotta go back to my other job!' But I don't know how motivated [Sam] is.

"I think his priorities have shifted, he likes his booze company, and stuff that he does. He is almost 70 years old. I gotta give it to him. He still sings his ass off.

"And Joe has his career, and we all got different stuff going on. But, I did just talk to him yesterday, and he was like...

"Because I just played on Joe's solo album that's gonna come out next year, and he heard some of it. And he was like. 'Ah, man, this sounds so great, Joe sounds so great!' I think he kinda liked, you know, kinda inspired him a little bit.

"'We should [do it] like we did the first time and just throw some stuff out, just have a real loose kind of jam/album, and make an EP and blah blah blah blah blah...'

"And I'm like, 'OK, let's do it! I'm in!' So who knows, there could be more Chickenfoot in the future when we're all in the same room for more than three days, or something."