Richie Sambora Supposedly Left Bon Jovi Due to a Money Dispute
"It's a classic Jagger/Richards blowup," the report says.
Unregistered
Ultimate Guitar
Posted Apr 05, 2013 03:28 PM
Longtime Bon Jovi axeman Richie Samboras sudden departure from the band's current tour left the fans surprised and curious about what has been going on among the group ranks these days. Sambora himself named "personal issues" as the reason behind the entire situation, thanking everyone for the support without revealing almost any details.
And now, the recent reports claim that there's more to the whole thing that we might think. According to TMZ, sources directly connected to the band say that the "tensions between Jon [Bon Jovi] and Richie have been running high for years and it's finally erupted."
Judging by the report, the singer is constantly having issues with Sambora and it would seem that the money disputes are the main reason behind it. "It's a classic Jagger/Richards blowup," says an unnamed source.
After the guitarist has missed out on Calgary concert, Jon took the crowd on his own, saying that he "had two choices: pack up and go home or give you everything I got."
In the meantime, the band has hired guitarist Phil X as a temporary replacement, welcoming him back in yesterday's announcement on the official website. With the current lack of any solid information, it still remains unknown when or whether Sambora will be returning to the Bon Jovi fold.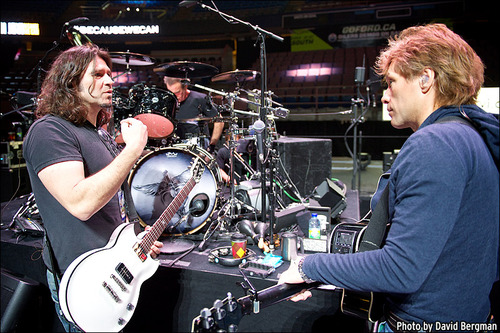 Thank you everyone for your concern. I'm well, but had to stay in LA to take care of a personal matter.Love you all and see you very soon.
Richie Sambora (@TheRealSambora) April 3, 2013