Skid Row: Why We Failed to Reunite With Sebastian Bach Last Year
"We got offered a lot of money."
jomatami
Ultimate Guitar

jomatami
UG News editor since early 2013. King Crimson fan. I handle the 'news' around here.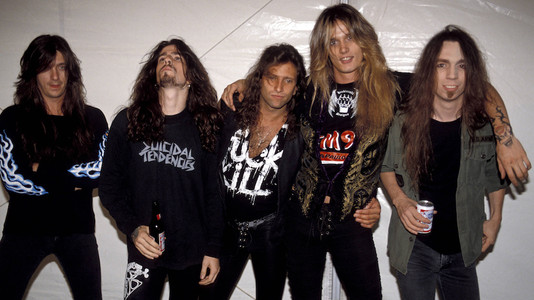 Skid Row guitarist Dave "Snake" Sabo confirmed that the band was seriously considering a reunion with Sebastian Bach last year, explaining to Eddie Trunk (via Blabbermouth):
"There was definitely dialog that was going back and forth and there was talk.

"I think everybody was entertaining the idea. And I think, really, what it ended up being was we realized that whatever it was that tore us apart years ago still existed.

"We got offered a lot of money.

"There was a lot of stuff that's been said about what happened and tours being booked... That didn't happen - tours were not booked.

"Any offers that came in came through to me and Rachel [Bolan, bass], 'cause it's our band. So there was a good amount of money being offered. And then with the dialog that went back and forth, it got ugly again."
Focusing on the disagreements, Sabo noted:
"It had nothing to do with money. I'll tell you straight up - no one was making was more than anybody else.

"That was one of the things that we said - Rachel and I and Scotti, we were, like, 'This is easy from that perspective.' I'm not gonna sit there and do it any other way.

"It was more about control, I think. Other people having a desire to have more control over this thing than we were willing to give. And it was not about anything other than this is our band.

"This is not ego-driven, I promise you. It wasn't about me making more money than you, or you making more... it wasn't about that at all. I guess it was the personality conflicts that existed before, 20 years ago [that are still there]."
When Trunk pointed out that Motley Crue managed to complete an 18-month final tour while traveling on separate buses and barely speaking to each other, Dave replied:
"Yeah, but they were miserable - they were all miserable. And see, that's the thing, man... I don't know... I guess I look at it differently.

"I really like my life, man. I really like being happy. I have great joy playing Skid Row music now. Not to say that I didn't before, but in this moment in time, I'm extremely happy.

"My life is awesome, my friends are awesome, the people I make music and jam with, they're all awesome.

"And so, I've gotta say, yeah, the idea, the romantic notion of a reunion and the monetary aspect of it is all well and good, but at the end of the day, man, I really enjoy the space that I'm in.

"I just wanna be a good guy, I wanna be a good husband, a good father, a good friend, a good brother. The way that we existed towards the end, after 'Subhuman Race' and when everything fell apart, it was misery for everybody - not just me; for everybody."
However, the guitarist also pointed out:
"I always never say never.

"I guess that's like my way of not committing to saying, 'No, it will never happen.' The chances of it happening, I mean, I would say they're slim to none, but I never say never.

"But I will say this: in this day and age, we live in the moment, man. I mean, I'm living right here, right now in the moment. And I love having ZP in the band."