Slayer Issue Official Statement on Jeff Hanneman's Death
The guitarist's cause of death reveals a secret alcohol problem. In this statement, his former bandmate share their closest memories of him.
Unregistered
Ultimate Guitar
Posted May 10, 2013 02:35 PM
Slayer have spoken for the first time since announcing the death of founding guitarist Jeff Hanneman, who passed away last week at the age of 49.
A statement on the band's Facebook page reveals his cause of death as alcohol related liver cirrhosis.
While he had his health struggles over the years, including the recent Necrotizing fasciitis infection that devastated his well-being, Jeff and those close to him were not aware of the true extent of his liver condition until the last days of his life. Contrary to some reports, Jeff was not on a transplant list at the time of his passing, or at any time prior to that. In fact, by all accounts, it appeared that he had been improving he was excited and looking forward to working on a new record," said the band.
The the same message, frontman Tom Araya and guitarist Kerry King share their favorite memories of Hanneman. Founding drummer Dave Lombardo who was recently kicked out of the band ahead of a major tour was absent from the official statement, but he's shared comments and photos of Hanneman elsewhere which you can also read below.
Tom Araya: "When we first formed Slayer, we used to rehearse all the time, religiously, 24/7. Jeff and I spent a lot of time hanging out together, he lived in my father's garage which was also our rehearsal space.
"At a certain point, you still have the band but you start your own lives outside of the band, so that 24/7 falls to the side, you don't spend as much time together as you once did. I miss those early days.
"Jeff was a lifeline of Slayer, he wrote so many of the songs that the band will always be known for. He had a good heart, he was a good guy."
Kerry King: "I had so many great times with Jeff ... in the early days when we were out on the road, he and I were the night owls, we would stay up all night on the bus, just hanging out, talking, watching movies ... World War II movies, horror movies, we watched 'Full Metal Jacket' so many times, we could practically recite all of the dialogue."
"He was a gigantic World War II buff ... Jeff and I went to one of Moscow's military museums. I'll never forget him walking around that place, looking at all of the tanks, weapons and other exhibits. He was like a kid on Christmas morning. But that was Jeff's thing, he knew so much about WW II history, he could have taught it in school."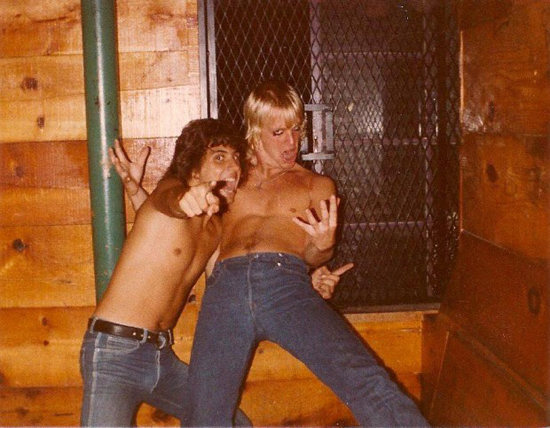 Dave Lombardo: "This picture was taken at the Troubadour in Hollywood around 1982. Jeff was the guy that shaved his head and shared the music he was so inspired by. I enjoyed Dead Kennedys, Circle Jerks, Black Flag and the Germs with him. My drumming was getting faster and Jeff was writing original songs with a Punk attitude. The fusion of Heavy Metal and Punk took over Slayers early mediocre style, hence a new force was born. Thank you Jeff for your inspiring discovery of Punk rock that has continued to shape my personal drumming style."