Slipknot's Clown: What I Think of Other Famous Clowns
Mr. Clown shares his thoughts on Pennywise, Ronald McDonald, and more.
jomatami
Ultimate Guitar

jomatami
UG News editor since early 2013. King Crimson fan. I handle the 'news' around here.
Posted Sep 08, 2017 06:27 PM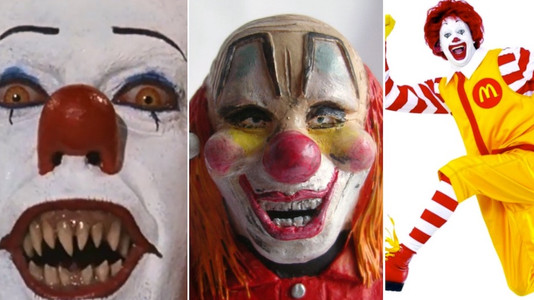 Slipknot's Shawn "Clown" Crahan sat down with Alternative Press to share his thoughts on various famous clowns, including Pennywise from Stephen King's "It," McDonald's mascot Ronald McDonald, and more.
You can check out the man's comments below.
Pennywise from 'It' (1990 miniseries vs. 2017 film)
"Pennywise: only Tim Curry. It's all about the human that's behind the clown.

"So, the first is Mr. Curry. He's too much; he's just perfect. I haven't seen the new one yet - I haven't even seen any of the trailers - but we'll see how that does. We'll see if the thought process and the performance happens."
Ronald McDonald
"Ronald McDonald? We gotta be careful what we say about Ronald.

"He wears the crown, whether we like it or not. Over five billion served! You gotta eat to live. And we're eating his food... we don't know what's in it, we just know we like it.

"That clown there, that's a serious clown because he's backed by money. It's corporate. You gotta kinda bow to that clown; that clown will fuck you up."
2016 clown sightings
"Most of these were bullshit. As a clown, what I possess is a gift. I can give you all of the color or none of the color, right now, and I can just tweak you out.

"I can cater to what you hate, immediately. Just dump it like a garbage truck in your lap. Just overpower your senses. That's what clowns are.

"When you look at these clowns, most of them - you can tell immediately - are just bullshit.

"But the ones that were real? Some fucking clown that is like 10 feet into the forest, behind a fence, in front of a Dumpster? That's the clown to be worried about, if you're worried about clowns.

"The clowns that are all up in your face, being filmed, and then the videos are edited to look overbearing - they're just catering to a philosophy that they don't understand. Maybe they should go be mimes."
Clown from Slipknot
"I'll tell you something interesting about my Clown.

"I was in a mall somewhere and my wife was running around shopping in some department store. I was on the phone, but about 30 yards away, someone started coming up behind me, and I heard, 'Clown?'

"I turned around and it's this random Maggot [Slipknot fan] with his girlfriend. I was like, 'How'd you know it was me?' You know, I'm in a different state in some random department store with my back turned to the person!

"And he said, 'It's how you hold yourself. You're the Clown.'

"I was like, 'You're absolutely right.' I understood exactly what he was talking about. And that's kinda what I was saying about those clowns from the sightings: You know the ones that are real.

"They could have their back to you, and you'd still be like, 'Fuck this.' The other ones just don't match the perfectionism."
Killer Klowns From Outer Space (1988 film)
"Clowns that eat you as cotton candy blood-balls. Those are scary fucking clowns. They're scary, but they're not human, so you don't take them as seriously as a human wearing clown makeup."