Steve Morse: The Thing I Was Banned From Doing When Recording Guitar Solos for Deep Purple
"Producer Bob Ezrin is like a military drill sergeant."
jomatami
Ultimate Guitar

jomatami
UG News editor since early 2013. King Crimson fan. I handle the 'news' around here.
Posted Aug 10, 2017 08:08 AM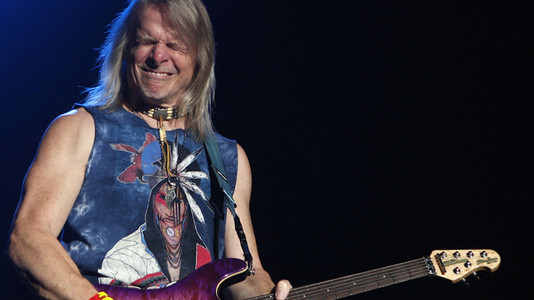 Steve Morse revealed that Deep Purple producer Bob Ezrin has banned him from incorporating his "normal style" into the band's guitar solo tracks, telling Billboard:
"Bob is a strong guy. He wants all the music to suit the song.

"So, if I start playing in my normal style, he goes, 'No, no, Morse, that sounds like your solo album. C'mon, give me something more melodic or something more simple.'

"He'll challenge me to go differently than I normally would, and he's like a military drill sergeant.

"He's hard on me, but he also has an incredible, amazing, computer-like mind.

"He can remember anything, and he's got really good musical instincts. So because of that, I put up with him. [Laughs]"
Steve was also asked on much has he "matured musically since [1996's] 'Purpendicular,' your first album with the band," to which he replied.
"I don't really know if we've matured as much as we evolve. I think the lyrics keep getting better and my guitar playing is more sensitive to the music, the song. Maybe I fit in better.

"And we have an awesome producer, Bob Ezrin, who we didn't have before. It was just the band and Roger [Glover]. However, 'Purpendicular' was our first album together, and so there were no preconceived notions or expectations about anything.

"It was great because it was so natural. Coincidentally, that one and this last record are my favorites.

"They are extremes. 'Purpendicular' had no expectations, and in appearance had no outside influence except us guys. Infinite has the best producer we could've got."