Steve Vai: 10 Guitarists That Blew My Mind
"I saw this kid playing and that was it... this was the beginning of my love affair with this instrument..."
jomatami
Ultimate Guitar

jomatami
UG News editor since early 2013. King Crimson fan. I handle the 'news' around here.
Posted Aug 17, 2017 05:04 PM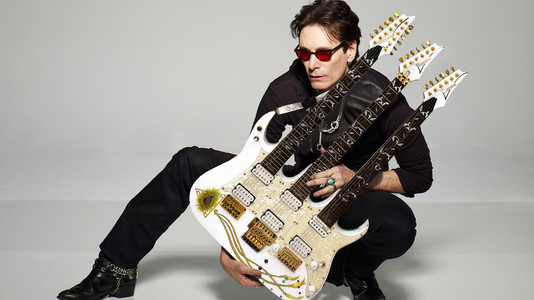 Steve Vai sat down withMusic Radar to jot down a set of 10 guitar players that blew his mind.
You can check out the man's picks below, consult the source for the whole thing.
1. Some random nine year-old kid
"I saw this kid playing and that was it... this was the beginning of my love affair with this instrument. He was nine years old and I was six! [Laughs] Honestly, it blew my mind and I thought, 'Okay, I want to get into this!'"
2. Jimmy Page
"He was the finest guitar architect on the planet and still is... no matter what he's playing, even during his rusty stages, it sounds beautiful to me."
3. Joe Satriani
"I started taking lessons from Joe and didn't really know many other guitar players. He blew my mind; I could not believe how good he was. I think I must have been 12 and he must have been about 15... but he could play the solo to 'Heartbreaker'!"
4. Carlos Santana
"When I heard 'Europa,' my world stopped - it was one of the first songs I'd heard where the voice of the guitar was the lead through the whole song, yet it felt so angelic. It was like it floating on billion-dollar tears..."
5. Brian May
"I've tried many times to blend guitars, my whole is about blending guitars musically, but nobody comes close to him. His touch, note choice, musicality, tone... all of it."
6. Al Di Meola
"If you listen to him with John McLaughlin and Paco de Lucia on 'Friday Night in San Francisco'... those guys were absolute freaks, man. Don't we all wish we could pick like that, right?!"
7. Allan Holdsworth
"He was unique in ways that I don't think have been discovered yet."
8. Eddie Van Halen
"If there were two musicians that had the biggest impact on electric guitar, it would be him and Hendrix. They were the kind of game-changers that come along very rarely, approaching the instrument differently but also accessible, inspired and effective."
9. Yngwie Malmsteen
"What I love about Yngwie is his fierce confidence and developing of a style. You can hear the classical composers, as well as guys like Uli Jon Roth and Ritchie Blackmore, taking it to a whole different level. I'm not necessarily a fan of that style of renaissance baroque classical music, but you cannot deny the breathtaking brilliance he introduced to the guitar when he hit the scene."
10. Tosin Abasi
"When I think of guys that are creating things of great value right now, I think of Tosin Abasi from Animals as Leaders."