Surviving Members of Adrenaline Mob Comment on Bus Crash: We've Experienced Hell on Earth
"I don't even know where to begin."
jomatami
Ultimate Guitar

jomatami
UG News editor since early 2013. King Crimson fan. I handle the news around here.
Posted Jul 16, 2017 12:55 PM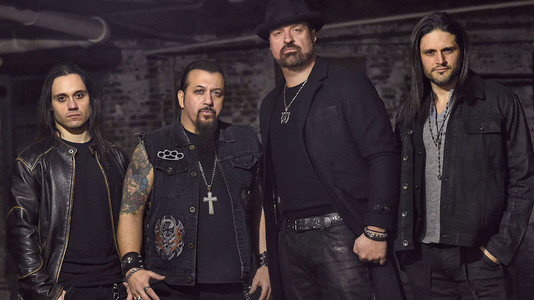 The members of Adrenaline Mob who survived the bus accident that took bassist Dave Z's life - vocalist Russell Allen, guitarist Mike Orlando and drummer Jordan Cannata - issued their first public statements following the fatal crash.
Allen noted via Facebook:
"Yesterday I was involved in an accident that took the life of my dear friend and bandmate David Z and left three of our crew in critical condition.

"I'm overwhelmed with sorrow.

"I am so grateful for the outpouring of love we have received from around the world.

"Please continue to pray for David's family during this difficult time. And those in critical condition.

"I want to personally thank Marine Lance Cpl. Patrick Dumon for his bravery in assisting me pull our driver Jason [McCole] from the wreckage and for attending to his wounds. And for helping me to secure and attend to Jane [tour manager Janet Rains, a.k.a. Jane Train] once I was able to get her free from the fire.

"Without his selfless act of courage, I would not have been able to get them clear of the RV before it was engulfed in flames.

"On behalf of my band and crew, I thank you."
Orlando stated:
"I can not begin to thank you all for all the prayers and thoughts. I'm trying to process and deal with this, physically and mentally... so I'm sorry for being vague.

"We've literally experienced hell on earth... I'm absolutely broken, both physical and mental.

"I love you, Dave, I will miss you more than words can say. You were one of the sweetest souls I've ever known."
Cannata noted:
"Hi everyone. I don't even know where to begin, so I will start by saying thank you for all of the love and support from everyone.

"We are all devastated and will need some time to physically and mentally cope but the outpouring of love has been nothing short of inspiring.

"David Z... I love you, I miss you, and send my heartfelt condolences to your family and friends. To the rest of my bandmates and crew, I love you all. Please keep everyone involved in your thoughts and prayers. Thank you everyone. RIP David Z."
The Wild! - the band who opened for Adrenaline Mob on the current tour - issued the following statement:

"To our fans, families & friends,

"Yesterday our friends and tour mates in Adrenaline Mob were involved in a crash that claimed the life of their bassist and our friend, David Z. David was a very positive guy who loved to laugh. He was also an amazing musician. We are honoured to have shared the stage with him on this tour and will miss him dearly.

"Our hearts go out to David's family, the members of the crew still in the hospital after the crash, and to the entire Adrenaline Mob camp during this difficult time.

"This was a very close call for us as we passed their convoy minutes prior to the crash. We thought about pulling over to assist with their tire change but just couldn't make it over to the shoulder in time and kept on driving only to receive a call no touring musician ever wants to receive a few minutes later.

"To all of our family of touring musicians across the globe, PLEASE BE CAREFUL when on the road. None of us saw this coming and no one ever expects these kinds of things to happen, but unfortunately they can.

"We are here andvery grateful to be alive.

"Our condolences to David Z's family and friends. To Jane Train, Jason, Dale, Russel, Mike, Jordan & Rob : WE LOVE YOU GUYS and will see you soon.

"Rest In Peace, David Z."