Ted Nugent: The One Reason Why I'm Not in the Rock Hall Yet
"The founder of Rolling Stone and the boss hog at Rock & Roll of Fame hates freedom."
jomatami
Ultimate Guitar

jomatami
UG News editor since early 2013. King Crimson fan. I handle the 'news' around here.
Posted Aug 11, 2017 06:11 PM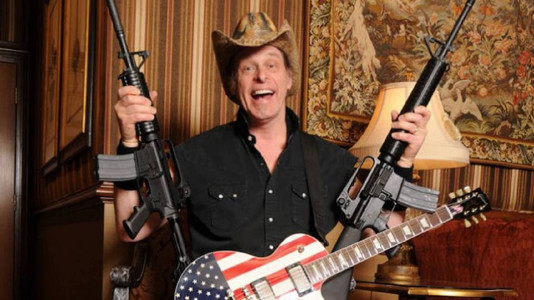 Ted Nugent was asked by Q103 about his absence from the Rock & Roll Hall of Fame, to which he replied (via Blabbermouth):
"I'm in the most important Rock & Roll Hall of Fame in the world, and that is that 50-some years... When I get on stage tonight, it will be my 6,615th concert. That's a 'We the People' Rock & Roll Hall of Fame.

"Jan Wenner, the founder of Rolling Stone and the boss hog at Rock & Roll of Fame, he hates freedom, he hates the Second Amendment, he hates me, because I'm on the board of directors - quite proudly - of the National Rifle Association for, like, 26 years with some of the highest votes except for Charlton Heston [NRA's president].

"And I couldn't be more proud of that, 'cause the NRA is the ultimate family, grassroots organization that fights for the right to defend ourselves.

"What kind of numbnut would be against that?

"And until they get their heads out of their ass, I'm more than happy to do what I do and do it with all the vim and vigor that I do it every night."
Asked if he'd show up for his Rock Hall induction if he eventually got in, Nugent replied:
"Oh, hell yes! And you know what I would do? I would lead... I've seen a lot of the ceremonies, and they're so moving. All of us that love music, how do you not just shed a tear of joy when you see Bob Seger and certainly ZZ TOP and Chuck Berry and Bo Diddley and James Brown...

"Are you kidding me? These are the gods of the soundtrack of our quality of life. But you know what I will do? And I will do it.

"I will lead the most important moment in the history of the Rock & Roll Hall of Fame, because I will get on bended knee and I will say a prayer for Chuck Berry and Bo Diddley and Little Richard and Jerry Lee Lewis and The Ventures and James Brown and Wilson Pickett and Otis Redding and the Motown Funk Brothers and The Beatles and The Stones and The Kinks and Howlin' Wolf and Buddy Guy and B.B. King and Freddie King and Albert King... you know what I'm saying?

"Because Rock & Roll Hall Of Fame is paying tribute and homage to geniuses who gave us the ultimate soundtrack for our American Dream. I'm all in, man, I'm genuinely moved, and I'm glad there is a Rock & Roll Hall of Fame."