Top 5 GWAR Mainstream Moments: Super Bowl Petition, Fox News and More
Time to honor late Oderus Urungus, Beavis & Butthead, Jerry Springer stints also included.
UG Team
Ultimate Guitar

UG Team
UG editorial team. A group of people who are passionate about guitar and music in general.
Posted Mar 25, 2014 12:36 PM
Ever since founding GWAR in 1984, David Brockie, or Oderus Urungus made sure to stay true to his outrageous spirit and has always kept the crowd entertained with his unique blend of metal, humor and tasteless remarks.
Unfortunately, the frontman left us on March 23, leaving a permanent mark of a truly unique persona in the metal world. Honoring Urungus' return to his home planet, we're bringing you the list of Oderus' Top 5 mainstream moments. Check it out below, courtesy of Billboard.
5. Fan Petitions NFL to Let Gwar Play the Super Bowl
Bruno Mars? Nah, why not GWAR? Unhappy with the selection of Super Bowl halftime show performers, metal fans started a petition demanding that Oderus and co. should perform at the event. Signatures stated flowing in, but it still didn't get the band a spot on the show.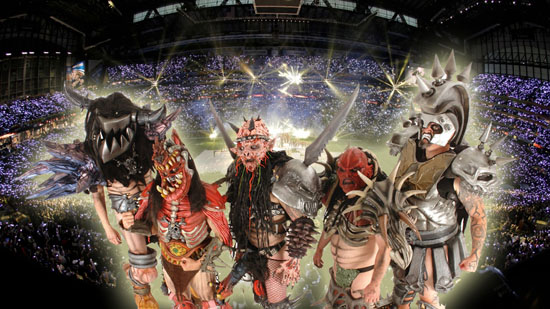 4. Jerry Springer and Joan Rivers Show Appearances
Shaking some of the most popular TV shows at the time, GWAR confused and shocked the famous hosts, standing their ground and even turning Mr. Springer into an "honorary scumdog."
3. GWAR Appears In "Empire Records"
Renee Zellweger, Liv Tyler, Anthony LaPaglia and ... GWAR!
2. Beavis & Butthead Love GWAR
Hardly surprising, but still an awesome moment in the band's history.
1. Oderus Urungus Becomes 'Intergalactic Correspondent' for Fox's 'Red Eye'
Not even Fox News could resist that GWAR charm, turning Oderus into an intergalactic correspondent on the "Red Eye" show.