Uriah Heep Guitarist Mick Box: The Most Essential Piece of Gear in My Arsenal
Musician also names non-musical item he couldn't live without on tour.
jomatami
Ultimate Guitar

jomatami
UG News editor since early 2013. King Crimson fan. I handle the 'news' around here.
Posted Mar 20, 2017 01:05 PM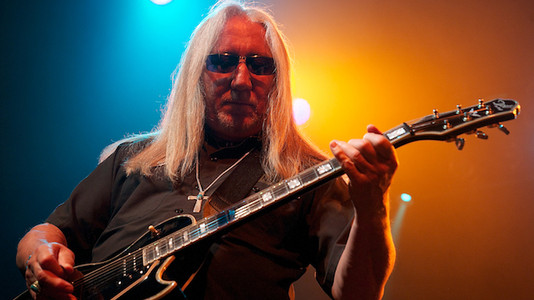 Uriah Heep guitarist Mick Box was asked by Guitarist Magazine to single out the most essential piece of gear for his live sound, to which he replied:
"The wah-wah. It's almost become my trademark, you know? I don't use it particularly in the wah-wah sense, but I do use it almost as an expression pedal, really.
"When I'm bending a note up and I put the pedal down I find a nice sweet spot... I use it as part of my playing style."
The 69-year-old musician was also asked to name a non-musical item he couldn't live without on tour, saying:
"It would be the iPad or computer. A lot of our time is wasted traveling, so if you have your iPad, which has also got a Kindle on it, you've got books, magazines, papers, films, the whole thing. Get online and you've got YouTube to float through. You can kill a lot of time with an iPad."