Watch: Grim Reaper's Steve Grimmett Plays First Show Since Losing His Leg
The musician underwent operation back in January.
jomatami
Ultimate Guitar

jomatami
UG News editor since early 2013. King Crimson fan. I handle the 'news' around here.
Posted Jul 17, 2017 12:54 PM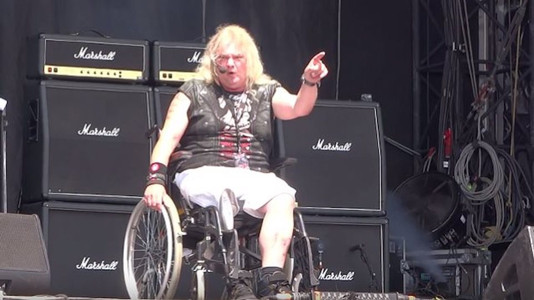 This past Friday (July 14) at the Bang Your Head festival in Germany, Grim Reaper frontman Steve Grimmett performed his first show since having his right leg partially amputated.
As Blabbermouth reports, the 57-year-old musician underwent the operation in January after an infected wound on his foot spread to the bones in his leg.
The life-saving surgery was carried out in Ecuador, with fans raising $14,000 to bring him home after his insurance company refused to pay because of the type of work he was doing.
Steve told the Swindon Advertiser:
"It was tough but throughout it all I have kept a positive attitude.

"Throughout the two operations, for which I was given epidurals, I was thinking of the soldiers who come back from war far worse than me.

"I am a big war bird buff and I thought of Sir Douglas Bader and what he achieved without either of his legs.

"While I was in hospital, I felt a bit down because I missed [my wife] Millie and my family, but not because I had lost a leg.

"At times, it could be amusing: fans were coming in to see me and I could tell when the medical workers were using the Internet to check me out because I'd hear them playing my songs."